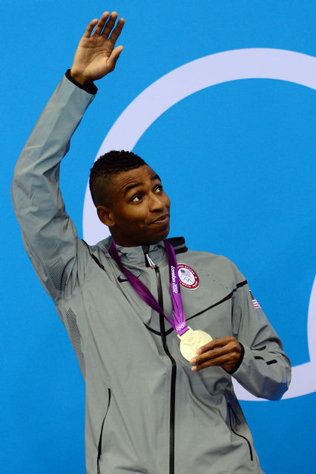 The YBF Olympians didn't just come to compete, they came to win.  Last night, Swimmer Cullen Jones & Track & Field star Reese Hoffa both won medals for TEAM USA.  And they've got interesting stories to boot...
After winning the silver medal during the 4x100 free relay last week in London, Cullen was only 2 hundredths of a second from winning the gold in Friday night's 50 meter freestyle. 
But his 21.34 seconds finish gave him a new personal best, and a silver medal.  He commented afterwards,
"I'm happy that the time wasn't too bad," said Jones, 28, whose personal best was 21.40. "I'm thankful that I got second. I was dreaming of gold and I really wanted to get first, but it wasn't in the cards this time. Getting silver is enough motivation for the future."
Interestingly, Cullen grabbed a gold medal in Beijing in '08 for the relay, so the 28-year-old Bronx cutie (who now lives in Charlotte) said he's indeed gearing up for Rio in 2016.  By the way, he's only the third African American to make USA's Olympic Swim Team.
Meanwhile, with Track & Field starting yesterday (Friday), the medals are already going out.  Reese Hoffa, a 34-year-old competing in his third Olympics, landed the Bronze medal yesterday during his shot put competition.
He told NBC after the win, "I cannot tell you how hard it is to dedicate 4 years to just this moment. I've had 3 wonderful opportunities and to finally get it done here in London is pretty awesome."
When the Georgia-native was 4-years-old, he and his cousin accidentally burned down their home after playing with cigarettes and matches and lighting curtains on fire.  Reese was put up for adoption, and for decades, he thought the fire was the reason.
The real reason was that his mother had him when she was only 15-years-old and could not give him the life he deserved.  So he was adopted by a family who took him in as their own, and his A-mom (what he calls his adoptive mother) was front and center alongside his fiancee at his competition last night.  His B-mom (B for Biological) watched from home.  He actually reunited with his biological mother about 10 years ago and they have had a relationship ever since.
Reese said about why his win is so important for his 2 moms:
"I started life as this kid from a mom that wanted to give her son a great life.  To now being a son of two moms, I guess, and getting a medal, it's awesome."
CONGRATS FELLAS!