Looks like Beyonce and Jay Z will lock in the Blue Ivy Carter trademark after all. In other Carter news, Mathew Knowles reveals he didn't learn about Bey's pregnancy until the public announcement AND he spills the beans on her performance for this year's Grammy Awards. More inside…
With news that 5-year-old Blue Ivy Carter will be a big sister soon, there's more good news from the Carter Camp.
Beyonce and Jay Z are >< close to locking in the Blue Ivy Carter trademark. And there are reports that the Carters are looking to launch a line of B-I-C products.
According to reports, BIC is set to release hair care products, clothing, video games and more. TMZ says the BIC trademark application should be "approved very soon."
Bey's company tried to trade "Blue Ivy" back in 2012, but was denied since that name had already been trademarked. No word on when these BIC products will be released, but its always good to have your ducks in order, so when they're ready to launch her stuff, the paperwork will already be in place.
In other Knowles news….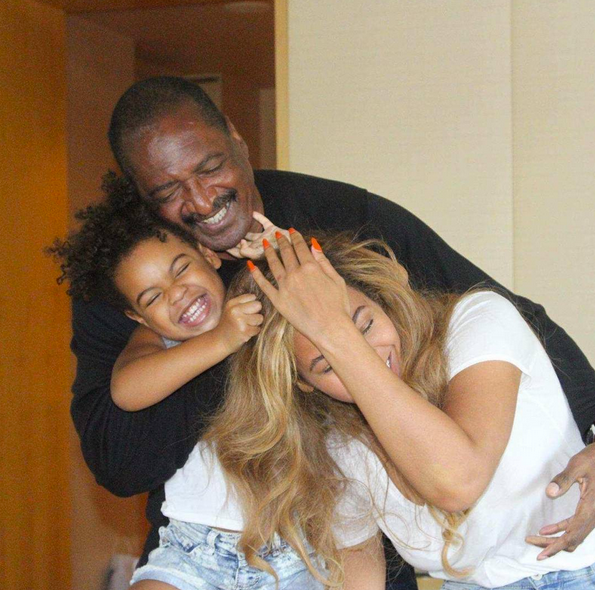 Beyonce's dad Mathew Knowles is speaking out and he's spilling some tea on his daughter's pregnancy announcement and her rumored GRAMMY performance.
Bey's former manager sat down with The Insider where he shared he was "shocked" to find out his daughter was pregnant with twins. The kicker? He found out just like the rest of us.  Damn! Looks like Papa Knowles aint on the family group text.
"I got a first text and I kept saying 'Why is this person saying Congratulations?' I didn't know myself!," he explained.
He said he spoke with her shortly after the public announcement and they had a wonderful daddy-daughter conversation.
There's no more speculation whether Mrs. Carter will perform during this year's GRAMMY Awards. Mathew let the cat out of the bag while talking about his recent conversation with Bey.
"I was like, 'Are you OK?' because she sounded a little tired because she has been working on the GRAMMY performance. And we just had a wonderful daughter-dad conversation."
Well there you have it. Bey WILL be hitting the stage February 12th during the GRAMMYs.
Peep his interview below:
Check out Mathew's congratulatory message to his daughter and son-in-law that he posted too:
Photos: Beyonce.com/Mathew's IG