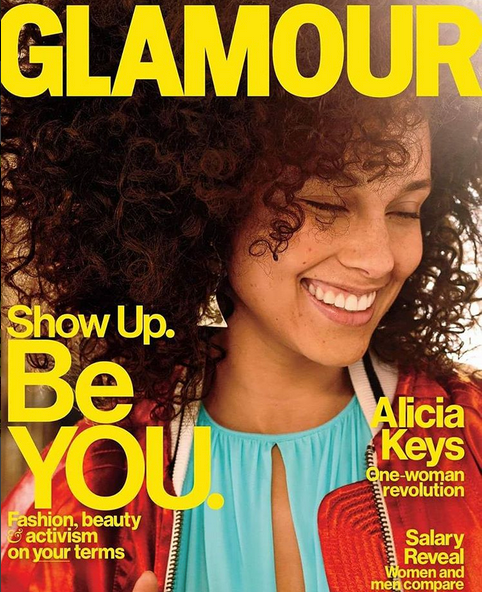 So what prompted Alicia Keys to become an activist? A voice for the voiceless? Does she still have issues with loving herself? And how's motherhood treating her? Find out the answer to all those questions inside...
It seems celebrities are breaking their silence more and morphing into activists, using their platform to speak out on issues that are concerned about. Alicia Keys happens to be one of those people, but she's been down for the cause since the beginning.
In GLAMOUR magazine's March 2017 issue, the singer mom opens up about how her mom influenced her while growing up to think about other people's feelings and emotions and not just her own. She credits her mom for making her more aware and to learn to care about how other people may feel about certain things.
The Grammy Award winner and "The Voice" judge also talked about still battling with learning to be totally comfortable with herself and drowning out the noise of other people's opinions. She also gave good advice about how women and young girls can empower each other on a daily and how motherhood has made her feel whole.
1. On her connection to activism:

AK: I'm sensitive to other people's feelings, which I think comes from my mother. She raised me; it was just her and I. She would drop jewels on me and call me on shit, like, "You know, it's not all about you. What about how someone else might feel?" And I think that's the basis of activism: caring about more than just yourself. And then, on my first trip to Africa [as part of Keep a Child Alive], I was able to see what the AIDS pandemic actually looked like.

They [music + activism] totally go together. You see it in the way Bob Marley spoke, how he chose his words through music. Nina Simone was so blatantly courageous. Even John Lennon wrote these songs about love that were so simple, timeless, and powerful. For a while I thought the two things were separate, because people told me they should be separate. But I think conveying the emotion of the collective "we," something those artists were able to do, is pretty incredible. Especially in tumultuous times like we are in now.
2. On self-love

AK: I have to say, personally, that has been a challenge for me. I do feel there are certain things we come into this world having to defeat. And for me, and I would not be surprised if a lot of women feel this same way, it's this thing of not being 100 percent comfortable with myself. Even if my husband says, "You know, babe? I don't know…," I still have to know that, for myself, that something is good for me. It's very tricky. We listen so much to everybody—more than ever, because we have a kabillion voices whose opinion we can access—and we care so much if everybody agrees with us. To bust through all of the noise is very challenging.
3. On attempting to revolutionize beauty
AK: It definitely is, but I didn't think about that then. I didn't think wearing braids was something revolutionary or iconic; that was just how I loved wearing my hair. I recognize now that how you look is your statement, because it's a claiming of yourself. You're saying, "Look, world. This is me. Love me or hate me, I really don't care." I guess that is the revolution. I think what happens in the world, and I think it's part human nature and part programming, is we become an emulation of what we see. We become clones of each other. And to break free from that and say, "Wait, I'm deciding to be my own individual self. And it looks nothing like what anyone else is doing." There's something so powerful about being my own gorgeous, beautiful, individual, unique self.
4. On what she would tell her younger self
AK: There is this fallacy about how women are catty, that we're all in competition with each other. I'd say: As opposed to getting swept up in jealousy, use that pang to give you an indication of what you are looking for. Actually, there is this awesome performer Lilly Singh [IISuperwomanII on YouTube], who always does this thing: "Shout out another girl and tell her what you love about her." Even doing that is such a good practice. I don't know if we tell women great news about themselves enough. You'd be surprised how often a young woman doesn't hear positive things about herself—not in her home, not at school. It's hard to create a beautiful image for yourself when you've never seen it or heard it.
5. On motherhood
AK: I love being a mom. And I think what I love the most is the way it makes me think about what's important and what's not important. What to fight for and what to just be cool with. What it is that I'm teaching through example and what it is that I was taught that I don't want to teach. You can be very fulfilled as a mother, but that can't be the only way you are fulfilled. What about being a woman? What about being yourself? Your awareness of what's happening in the world? It lives altogether in a way that makes a whole. I guess I'd say I'm the wholest I've ever been.
You can read her full interview here. In the meantime, peep the R&B singer having fun with some young ladies for the spread below: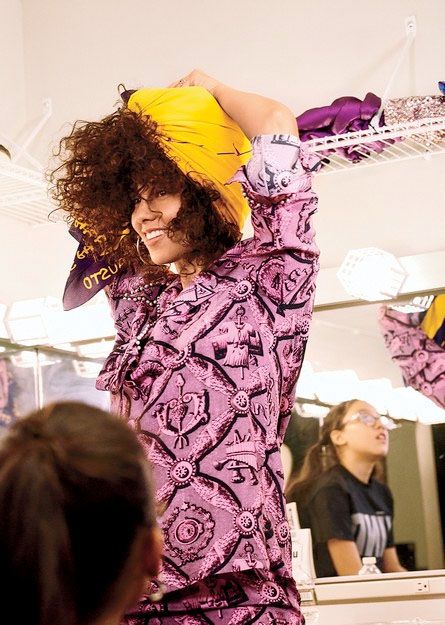 Photos: GLAMOUR