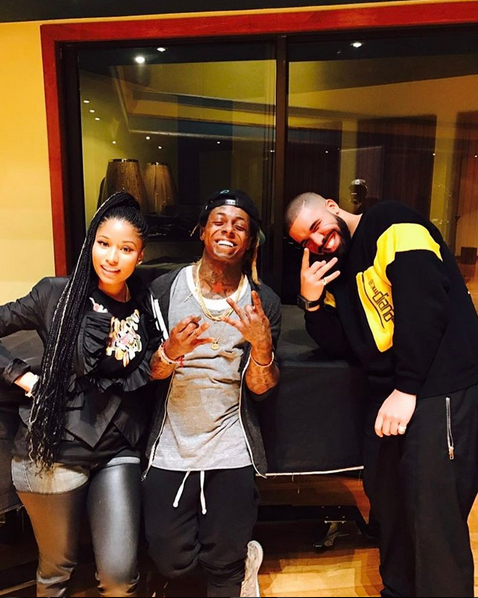 The Young Money gang is back together again. Get the details on the Nicki Minaj, Drake and Lil Wayne reunion inside…
Well, since Nicki Minaj and Meek Mill are no longer an item, the Young Money camp is back in tact.
Nicki Minaj and Drake have reunited after not speaking to one another for over 2 years. And we all know why.
Nicki's ex-boyfriend Meek Mill and Drake had one of the biggest rap beefs in the game, and it caused friction in the Young Money camp.
Now that Nicki and Meek are dunzo (which Nicki confirmed last month), Drizzy moved right back into position next to his fave Barb. Both Nicki and Drake posted up the reunion pics on their Instagram pages, looking super geeked about it all.
Sources tell TMZ Young Money president Mack Maine set up a meeting for them to talk it out. Drizzy saw Nicki and Wayne in a video together while in the studio that aired on ESPN and wanted in. The meeting went down in Miami on January 12th, and that's when the photos were taken.
Well, good for them. We see a new Young Money album in the near future.
Photos: Nicki's IG