Cardi B and Kehlani share a more vulnerable side while talking about being body shamed on social media. In other celeb news, Soulja Boy has fired Floyd Mayweather and hired Evander Holyfield to train him in the Chris Brown boxing match. Deets inside…
R&B singer Kehlani was surprised with a visit from her "friend in her head"/"Love & Hip Hop: New York" star Cardi B while chopping it up with HOT 97's Nessa.
This was the first time they've actually met each other, but they're both big fans of each other's crafts. Kehlani let Cardi know she was super proud and inspired by her for going after everything she wanted to do having so many odds stacked up against her.
The reality star said she appreciated Kehlani showing her love because not a lot of women in the entertainment industry like to support other women. She said the women who do show love, she can't trust them because those are the ones talking behind your back or sleeping with your man.
The ladies got open and honest while talking about online trolls body shaming and bullying them via social media. Cardi said a lot of women body shame her because her body is fake. She didn't have any problems revealing she got her boobs done because she never had big boobs growing up. The former stripper said folks will boast and brag about being all natural, but clown someone like Mariahlynn for not having a big booty.
Both ladies agreed they try not to care what people say, but at the end of the day they do because they're human. They said negative comments sometimes hurt their feelings and that they didn't sign up to get bullied, they just want to entertain people.
Peep the interview below:
Speaking of Cardi:
Tonight, Cardi B will make her "Being Mary Jane" debut in a fiery scene with Mary Jane (Gabrielle Union) going OFF on her. Peep the clip above. Tune in tonight at 10pm EST on BET.
Here's the latest in the Soulja Boy vs. Chris Brown saga....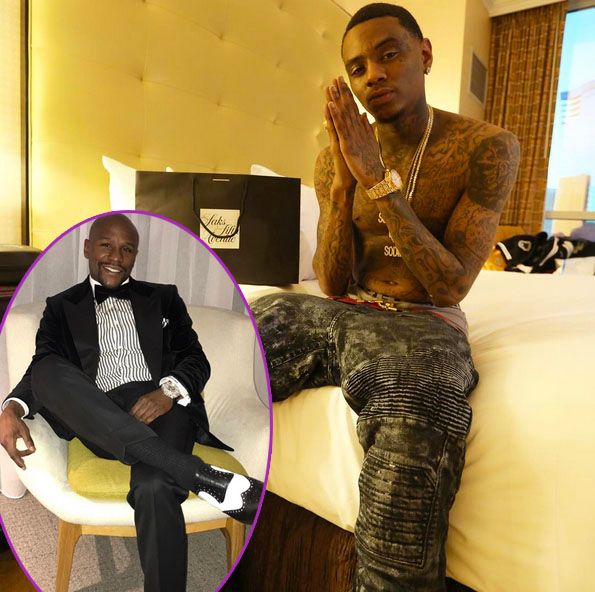 Soulja Boy just gave Floyd Mayweather his first "L," firing him as his boxing coach. And now, he has five time world heavyweight champion Evander Holyfield in his corner to help him take down Chris Brown in a celebrity boxing match.
Soulja's promoter Wack 100told TMZ he set up a meeting for Soulja to pitch himself to Evander to prove he's serious about winning the fight. Evander offered up some words of wisdom, "train harder, talk less." It's interesting to note, Mike Tyson is training Chris Brown. And we all remember Tyson biting Holyfield's ear off during a match.
Soulja reportedly axed Floyd as his trainer because he felt he was too busy to train him. It's reportedly no hard feelings between the two. We looked at Floyd's Instagram timeline and he erased any mention of the boxing match. Hmm…we wonder if Soulja still apart of the Money Team.
Still no official word on when this fight is set to go down, although there have been rumors that it will go down in March 2017.
Who you got?
Photos: Kehlani's IG/Soulja's IG/Floyd's IG