"The Quad" is gearing up to put HBCU life on full display. The cast and BET execs hosted a screening in NYC last night and we've got the pics inside…
If you've ever wondered what it's like to attend an HBCU, BET is gearing up to give you an inside look with their new series, "The Quad."
The show follows the ambitious, yet troubled Dr. Eva Fletcher (played by Anika Noni Rose), the newly-elected President of the fictional Georgia A&M University. Upon arriving, Eva is charged with saving the prestigious HBCU from bankruptcy and her twenty-year marriage from crumbling while managing a tumultuous relationship with her rebellious only daughter Sydney Fletcher (played by Jazz Raycole).  The freshmen are on 100 with their antics and a SCANDALOUS affair is going down too.
Last night, the cast and BET executives hosted a screening of the new series at The One Manhattan in NYC. And the show's leading lady was dressed to kill: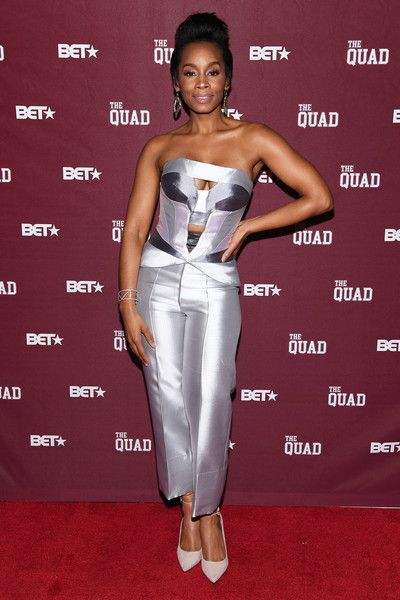 Heating up the red carpet, Anika Noni Rose did not disappoint. She rocked a metallic Rubin Singer ensemble (styled by Wayman + Micah) serving up a fun, yet chic look.
BET CEO Debra Lee came out to celebrate with Anika and the cast.
Chick selfie ready at any given moment.  Not mad.
Jazz Raycole, who starred as Angela Bassett's daughter in Waiting to Exhale, struck a pose in a black frock paired with knee high suede boots.  By the way, Jazz stars on the web series "Vanity" (that also stars Karrueche) and "The Soul Man."  She's also a dancer and is currently dancing under the supervision of Hollywood legend Debbie Allen.  Fab chick indeed!
Sean Blakemore, who also stars on "General Hospital," will play football coach Eugene Hardwick.  And he is sexy as all hell.
Peyton Alex Smith will play plays Flo Genius aka Cedric Hobbs, a young Chicago native who was sent to GAMU to stay out of trouble.
Head of Development at Rainforest Entertainment/Co-Exec. Producer Mitzi Miller was on the scene.
Stephen Hill, President of Programming for BET, ran into Felicia D. Henderson ("Gossip Girl/"Soul Food) on the carpet. Felicia co-created the BET drama with Charles Holland.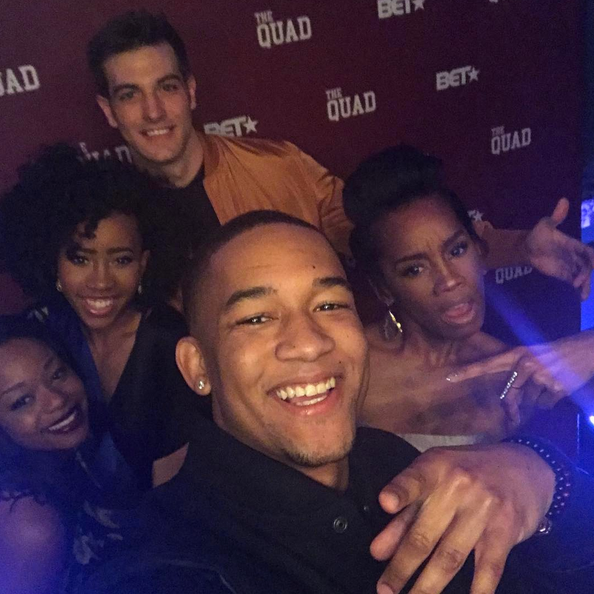 Fun times!
Peep a clip from the show below:
"The Quad" premieres tomorrow (February 1st) at 10pm EST on BET.
Photos: Getty/BET's IG