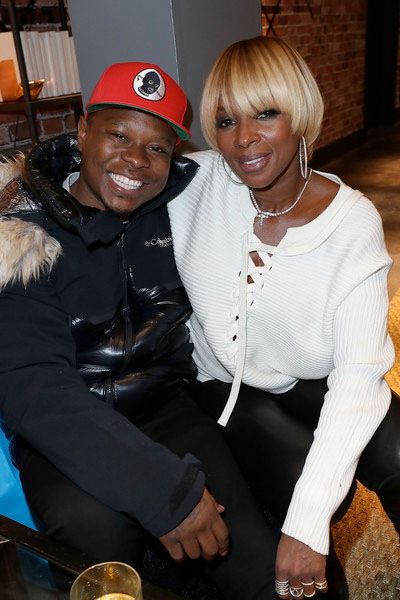 Mary J. Blige had us scratching our heads when she tweeted out some ridiculous rumors about her dating Straight Outta Compton actor Jason Mitchell. It appears she may have been trolling. Deets inside….
x
A few days ago, Mary J. Blige Twitter timeline was looking REAL suspect when she retweeted several stories about her dating Straight Outta Compton actor Jason Mitchell:
Well, MLB and Jason aren't dating. But, they are starring in a new film together titled Mudbound. And Netflix just picked up the film for a cool $12.5 million, the biggest sale at the 2017 Sundance Film Festival, according to Deadline.
The Grammy Award winning singer and the SOC (along with "Stranger Things" star Rob Morgan) will star in the Dee Rees-directed film about two families, a black and a white family, living in Mississippi in the 1940s that will explore the racial divide during that time.
According to NBC News, Jason is set to star as Ronsel Johnson, the son of a sharecropper who goes off to fight in WWII. He comes back as a man who realizes the war at home is an ever harder fight to win. Mary will play Ronsel's mother, Florence Jackson, the matriarch of the family who works in the fields. She has to leave her own children to care for a white woman's children.
"I was able to relive what all my ancestors lived and understand what they lived," Mary said. "I saw basically every woman that raised me and basically every woman in my ancestry. So it was beautiful for me to have them possess me the way they did at times that's what the script did for me. I was able to understand what they lived."
Jason also dished on playing his character saying,
"As a black man, I feel like it's important to stand for something, especially when you have a character that never puts his head down, that never walks away from a fight that's all about the American dream as a black man."
Dee Rees, who also co-wrote the script, had this to say about her new film,"We can either choose to continue to suppress our own history as a country and not acknowledge it and not look at it or we can witness it."
With Mudbound nabbing the biggest sale at Sundance, we can expect this film to be nothing short of amazing.
Photo: Getty