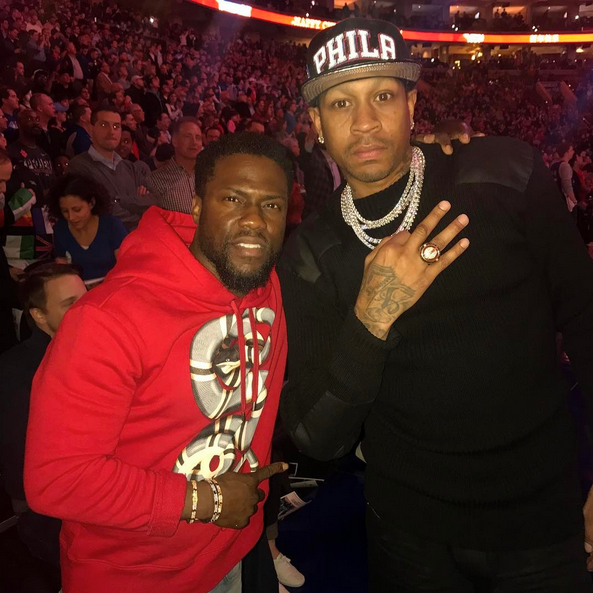 Kevin Hart is a fool! Get your laugh on at the comedian interrupting James Harden's interview after the 76ers and the Rockets went head-to-head, plus flicks of Allen Iverson and Meek Mill courtside inside….
The Philly boys were in the building last night!
Funnyman Kevin Hart, NBA legend Allen Iverson and rapper Meek Mill stepped out to cheer on their beloved Philadelphia 76ers against the Houston Rockets at the Wells Fargo Center.
Unfortunately for the guys, the Rockets beat the 76ers, 123-118. But Kevin got his own payback. While Rockets baller James Harden spoke with a reporter, the "Central Intelligence" star videobombed the baller busting hilarious dance moves. Get your laugh on below:
Hilar!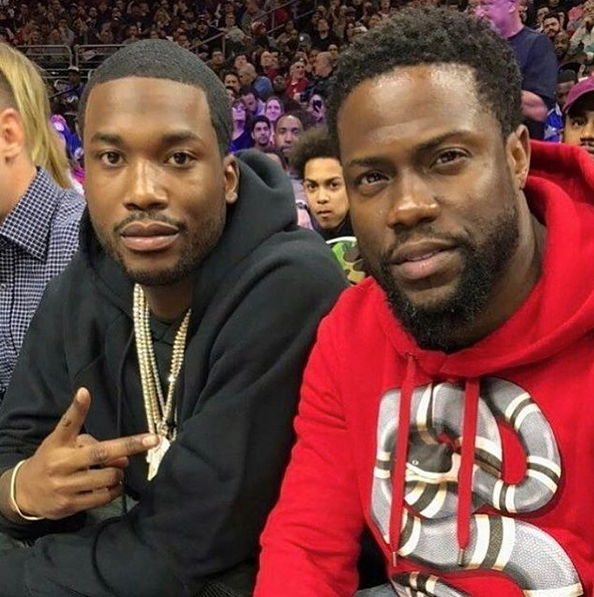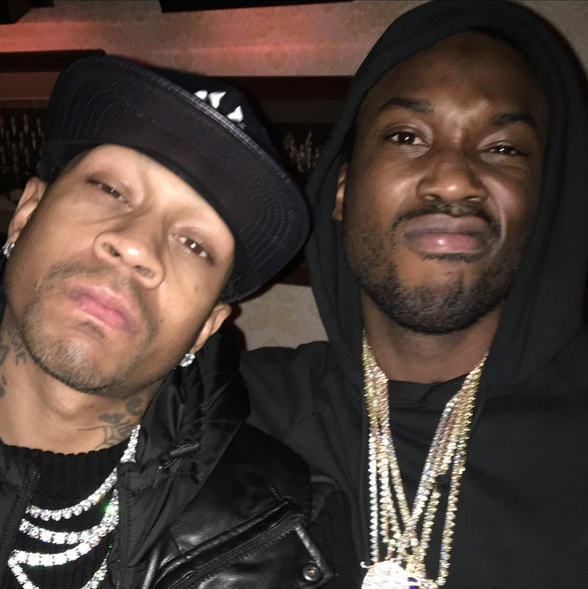 Rapper Meek Mill was in the mix snapping it up with the NBA legend. We noticed Meek deleted his Instagram page. We hear he fired shots at his ex-girlfriend Nicki Minaj then took deleted his page. Hmph.
By the way, AI will be coming out of retirement to play in Ice Cube's Big3 league. Get those deets HERE.
In other sports news....
Drake and the NBA are collaborating on a new project. The Young Money rapper is producing and hosting the first ever NBA Awards, following his hosting gig at the ESPY Awards in 2014.
Drizzy spilled the news during an interview on Kentucky coach John Calipari's podcast. He said,
"I'm actually producing and hosting the first annual NBA Awards this year. I get to take the reigns on it."
"The ESPYs let me do great things, and I thank them a lot for that. Usually award shows sometimes are a bit restricted. But they let me do a lot at the ESPYs, so we'll just expand on that concept. I love hosting. I love being in a room full of iconic, legendary people that I look up to and having that pressure of having to make them laugh and enjoy their evening."
The show will recognize the season's top players and it will air June 26th on TNT. We're here for Drizzy.
Photos: Kevin's IG/AI's IG/Meek Mill Fan Page IG