Dwyane Wade responds to Rajon Rondo's savage Instagram post where he called out D. Wade and Jimmy Butler's leadership skills. Find out what Chi-Town native son had to say and catch DeMarcus Cousins' tea inside…
The Chicago Bulls are clinging on for dear life to clinch a spot in the playoffs. Their current record is 23-24. Not only are they underperforming on the court, there's also drama brewing among the players.
After the Bulls lost to the Atlanta Hawks a few nights ago, D. Wade and Jimmy Butler threw their teammates under the bus to the media.  They called folks out for their lack of caring and not playing hard enough. Rajon Rondo didn't appreciate the way the guys spoke about the team, so he hopped on Instagram last night and BLASTED them into next week.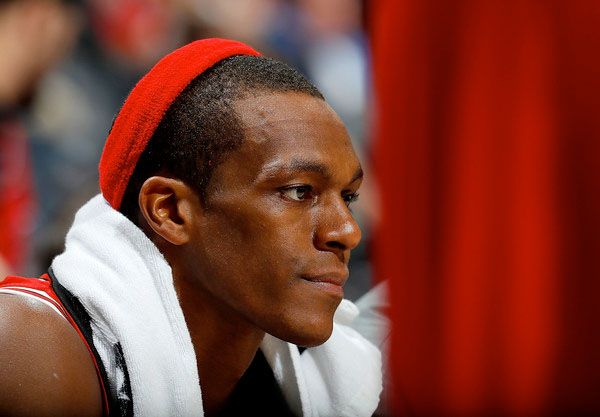 He took a shot at D. Wade and Jimmy's leadership skills in the post, pointing out the behavior of veterans when he was a younger player with the Boston Celtics. He wrote:
My vets would never go to the media. They would come to the team. My vets didn't pick and choose when they wanted to bring it. They brought it every time they stepped in the gym whether it was practice or a game. They didn't take days off. My vets didn't care about their numbers. My vets played for the team. When we lost, they wouldn't blame us. They took responsibility and got in the gym. They showed the young guys what it meant to work. Even in Boston when we had the best record in the league, if we lost a game, you could hear a pin drop on the bus. They showed us the seriousness of the game. My vets didn't have an influence on the coaching staff. They couldn't change the plan because it didn't work for them. I played under one of the greatest coaches, and he held everyone accountable. It takes 1-15 to win. When you isolate everyone, you can't win consistently. I may be a lot of things, but I'm not a bad teammate. My goal is to pass what I learned along. The young guys work. They show up. They don't deserve blame. If anything is questionable, it's the leadership.
Now, D. Wade is clapping back, but in a subtle way.
"I could take that as a personal attack," he told K.C. Johnson of the Chicago Tribune."But what's that going to do for me? Come in and fight Rajon because he said his vets practiced every day? I'm 35. I'm not practicing every day. That's very clear. Everyone has their own things. My vets did different things too. They were very successful with what they did in Boston."

"I took it as a human being expressing himself and feeling he wanted to say something regarding the young guys on the team and he felt it was portrayed different. And that's his leadership. That's his way of leading. Just like my way of leading is my way of leading when I come out here and I smile and say all these positive things. And when I come in and say I'm pissed off, that's my way of leading at that time.

"It's not always what people want to hear or a popular thing. I told [GM] Gar [Forman] and [Vice President John] Paxson that I respect their decision to do the things they did because it's their organization. It is right. A lot of things should be kept inside. But sometimes in the frustrating moments, you say things you feel in that moment. That's what I did. That's what Jimmy did. We take our punishment and move on and try to be better."
Rondo still stands by his comments too. He said the post wasn't out of anger, it was meant to defend the younger players on the team.
"The young guys got to say what they wanted to say today, and that's the biggest thing. We spoke as a team. A lot of guys that don't have much to say or don't have as big a voice, everyone had the same platform this morning and we got to talk it out."
Maybe now, they can put this all behind them and get to winning some more games to secure the bag.
Another NBA baller getting ish off his chest...
Sacramento Kings baller DeMarcus Cousins is NOT here for the fakeness. Especially those NBA players who like to do good things for the community only on camera.
In an ESPN profile, writer Kevin Arnovitz talked to DeMarcus -- known for some on the court antics of his won -- about how other players use doing good deeds to paint themselves in a more favorable light. (And if anyone could use that, it would be Demarcus as he comes off as a problematic player).
The profile highlighted DeMarcus' good deeds that usually go unnoticed, like him buying ALL the candy from a few kids on the street recently who said they were having trouble selling it.  And then he donated the candy to his flight staff.
He said,
"It just shows you how fake this fucking league is. Everything is about, 'How can I make myself look good?' This isn't a pure-hearted league, and there aren't a lot of pure-hearted guys. I wasn't raised that way. My mom would kick my ass if I helped someone across the street and said [handing over his phone], 'Here, record this.'"
DeMarcus isn't here for that fake ish.
Photos: Getty