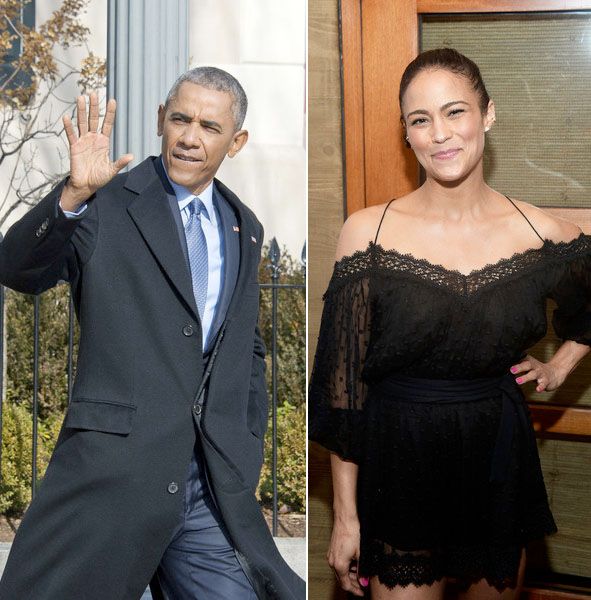 Barack Obama is set to write a memoir following his presidency and he could get paid more than any president before him. Get the details on the book deal, plus Paula Patton's new ABC gig inside…
Former president Barack Obama is getting in some rest and relaxation right now. But, he's gearing up to write a memoir following his eight-year presidency. And that COIN is about to be very real.
Esther Newberg, co-head of ICM Partners' publishing unit, is predicting that former President Obama will get at least $20 million…or MORE.
"There's no doubt Obama's memoir will go for more than any president's has ever gone," she predicts.
According to reports, George W. Bush got $7 million for 2010's "Decision Points," selling 2.6 million copies. Bill Clinton received a $15 million advance (the current record holder) for 2001's "My Life," selling 2.2 million copies. Now, there are predictions Mr. Obama will top them both.
Princeton University presidential historian Julian Zelizer says, "There is broader fascination with Obama, from conservatives who really hate him as well as liberals who deeply admire what he did."
THR reports:
Obama, 55, who likely will be repped by Washington lawyer Bob Barnett, recently told senior adviser turned CNN commentator David Axelrod that the book is his top priority. And he hired Cody Keenan, former White House director of speechwriting, to help. While every major publisher likely will bid, Random House, which published Obama's 1995 memoir Dreams of My Father and 2008 campaign book The Audacity of Hope (combined sales: 5 million), as well as both the Clinton and Bush books, has the inside track.
We're here for this memoir. We KNOW it will be worth the read.
In TV news…
Paula Patton just nabbed a new gig.
The 41-year-old actress, who's currently battling it out with her ex-husband Robin Thicke, landed the lead role in a new series titled "Somewhere Between." The thriller drama, which is said to have a supernatural twist, has a 10-episode straight-to-series order for summer 2017. Yep, it'll be here soon.
Deadline reports:
Written by Legend Of The Seeker and Taxi Brooklyn co-creator Stephen Tolkin based on a Korean format, Somewhere Between centers on superstar news producer and fiercely loving mom Laura Price (Patton). She isn't crazy: She knows her daughter Serena is going to be murdered. She doesn't know who the murderer is or why she'll be killed, but she knows exactly when it will happen, where and how. Despite this, all of her attempts to keep her daughter safe fail, and Serena's fixed, unmovable, terrifying fate keeps her directly in the path of her killer.
Paula keeps a job, doesn't she?
EXTRAS:
1. A comedy pilot about a rapper-turned-mayor is coming to ABC created by "Hamilton" actor Daveed Diggs. STORY
Photos: Getty