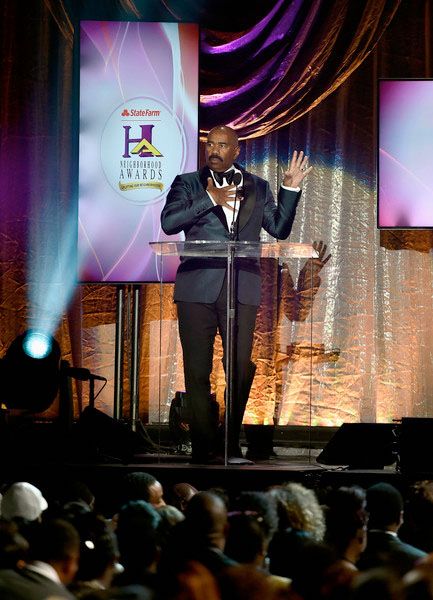 Amid all of the controversy surrounding Steve Harvey, there are new reports that he has pulled the plug on his popular Neighborhood Awards. Why? Find out inside…
As if Steve Harvey doesn't have enough drama on his hands, there's news that he has cancelled his highly popular Neighborhood Awards, formerly called the Hoodie Awards.
After 16 years of celebrating local businesses, community leaders, teachers, churches and local entrepreneurs, the TV show host has shut down shop, according to a source close to Harvey's camp.
Why?
Well, it is being reported Steve decided to end the awards show due to cutting ties with his former manager Rushion McDonald who happens to own the show and the concept. Once Steve and Rushion parted ways -- after 20 years of friendship and working together -- Steve decided to stop supporting the event.
"It's what some people would describe as, 'cutting off your nose to spite your face,'" a source told the Daily Mail.
The Neighborhood Awards helped brand his "Steve Harvey Morning Show" radio show and created a "guy-next-door image" for Steve after fans took issue to his usually "cold" demeanor in person and it often spilled into his tv and radio character.
Steve's name has been in the headlines since his controversial meeting with president Donald Trump. The "Family Feud" host is also in a legal battle with one of his former employees who reportedly tried to extort him out of $5 million over videotapes that supposedly show Steve on "racist rants" against white people.
It's interesting that he would chose now to stop one of the entities that definitely shines a positive light on his brand.  We hear it was, at least in part, his new management's decision.
With everything going on, Steve has been spending quality time with his family on vacation. His wife Marjorie Harvey posted several pictures and videos of the Harvey Family vacation to celebrate his birthday:
Are you bummed out over the cancellation of the Neighborhood Awards?
Photo: Getty