No surprise here. White gospel singers Vicki Yohe and Paula White are Donald Trump supporters all while catering to the black community. Hmph. Deets on social media DRAGGING Vicki Yohe for her life and more inside…
These white gospel singers are willin' for some type of respect…or whatever.
White gospel singer Vicki Yohe (above left) TRIED it over the weekend and the Internets wasted NO time to check her.
On Saturday, while millions of women (and men) gathered to protest Donald Trump becoming president, gospel singer Vicki Yohe decided to show her full support of the new president. FYI -- If you don't know who Vicki is, she sings "Because Of Who You Are" and she has a strong following of black Christians.
Anyhoo, Vicki posted a picture of a "white Jesus" carrying some suitcases with the caption, "On my way back to the White House." She captioned the picture, "March all you want, protest all you want, President DONALD J. TRUMP is our President for at least four years, no weapon formed against him will prosper! You know you are doing something right when there is so much opposition!!! #excitingtimes."
Check it: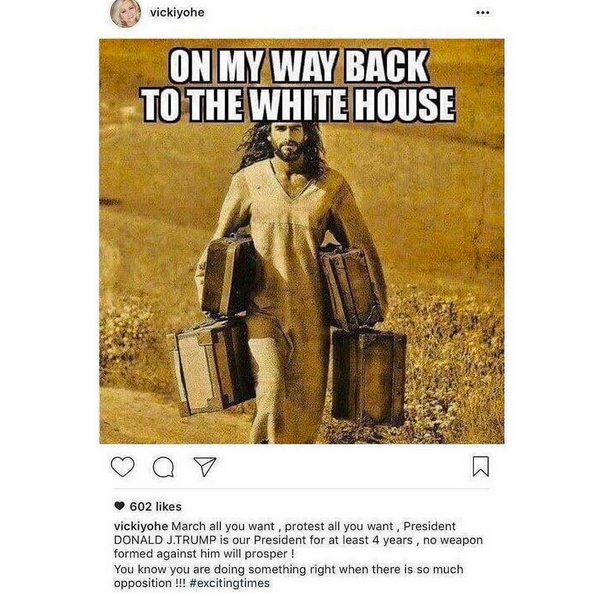 Not only is she supporting Trump, she also alludes that former President Barack Obama is not a Christian.
Black Twitter dragged her for FILTH on social media. Peep some of the tweets: 
#VickiYohe is another white evangelical who insults the faith of Pres Obama, but she likes those Black singing checks!

— rolandsmartin (@rolandsmartin) January 23, 2017
Former Pres @POTUS44 and his family were in church every Sunday. Yet evangelicals flocked to @realDonaldTrump who is not devout. #vickiyohe

— Sophia A. Nelson (@IAmSophiaNelson) January 23, 2017
I am not surprised by the racist comments of #vickiyohe maybe she'll think more clearly next time she attacks someone's faith.

— Sophia A. Nelson (@IAmSophiaNelson) January 23, 2017
It's time to call the comments by #vickiyohe what they are....insulting, offensive & contrary to the faith she claims to defend in song.

— Herman L. Dickey (@HDfromMT) January 22, 2017
#vickiyohe Because of who you are, we're no longer booking you

— Brannon Rhodes (@iBrannon) January 23, 2017
vicki yohe Thanks for showing us who you are. BEcause of who you are, you are nothing to me. That goes for all evangelicals who support DT

— Paul L. Rogers (@45pulsar) January 23, 2017
Since she wanna be petty, can we finally admit Vicki Yohe is a culture vulture?

— Neek Smif (@NeekSmif) January 23, 2017
We are now officially done with Vicki Yohe. She's forgiven but she can't minister at our conferences no more #VickiYoheHodges#VickiYohepic.twitter.com/o8HJDfi2ku

— Opuokubo Kabowei (@KaboweiO) January 23, 2017
It's clear that the hatred for Obama isn't about abortion or sanctity of marriage. It's his race. God is not pleased. #vickiyohe#racism

— Nicole Cokie Griffin (@PastorCokieG) January 23, 2017
By the way, Vicki's Instagram page has been set to private and her Twitter page is down (for now).
Per usual, when a celeb gets dragged on social media, they come back with an apology they feel will calm the masses. Vicki tried to explain herself, but girl...BYE. No one wants to hear it. She's losing bookings and fans by the hour.
Check it: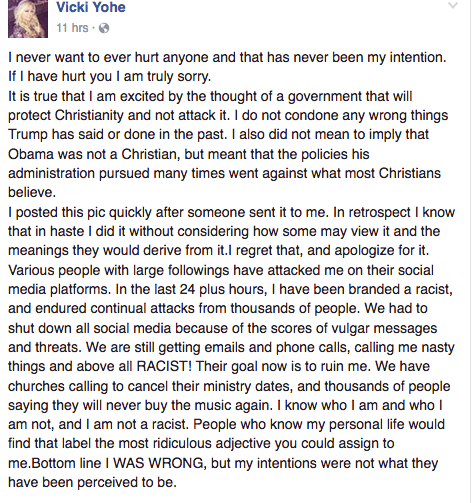 Save it Vicki! We're on to your cultural vulture ways.
White gospel singer Paula White is no different. She too has a huge black following, but is a strong Trump supporter. In fact, she's his spiritual adviser and has been for the last 15 years.
During the presidential inauguration on Friday, Paula White was invited to lead everyone in prayer for the invocation. NPR got the chance to chat with her after the ceremony, and here's some of what she had to say about Trump:
MARTIN: Can we talk about why some people are surprised about your connection to President Trump? I mean, you have a large multicultural following. For example, you've been a keynote speaker for years at MegaFest, which, for people who don't know, it's a very large spiritual gathering led by the well-known African-American preacher, author T.D. Jakes. I'm sure you know that many people have felt that Donald Trump has made demeaning and even racist remarks about people of color for years now, not to mention questioning former President Obama's birthplace for years. And I'm wondering if you've ever talked to him about these remarks and how your congregants feel about those remarks.

WHITE: Well, first off, I've had the opportunity to know him for 15 years. And so knowing him on a private level, I know that there is not racism or prejudice in him. You can ask President Trump that question directly. But from my experience, it's...

MARTIN: Well, his questioning President Obama's birthplace was not something that was secret, nor that - was that a media invention. And many people experienced that as his questioning his legitimacy as president and as racist.

WHITE: No, I understand many people's hurt and many people's position on things. And I do understand that. I think that that is a great question to ask him about.

MARTIN: Can I ask you also about another sensitive issue, which is you've talked openly about being a survivor of sexual assault. And by now, of course, most people know about that "Access Hollywood" tape where then-candidate Trump bragged about grabbing women by their private parts. And I wondered how that struck you, and if you ever had occasion to talk to him about that, and what you think all that means.

WHITE: Absolutely. Immediately I talked to him; when I say immediately, probably within the first few hours of that release or sooner. He was very contrite, very embarrassed. And again, knowing the person, when he said, I am a changed man, I believe, and - or a better man - and I can say that over 15 years I've watched a man grow and I've watched a man change. And I think he - it's something that he took responsibility and ownership for and something that he was deeply bothered by.
A changed man? Where?  We'll wait....
This meme pretty much sums up our feelings: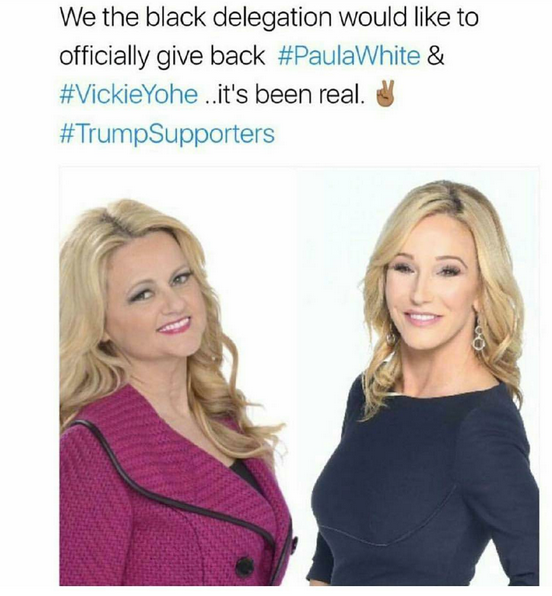 Hopefully black churches and congregagtions stop giving their money to those who hate them.
*two fingers spread*
Photos: Getty