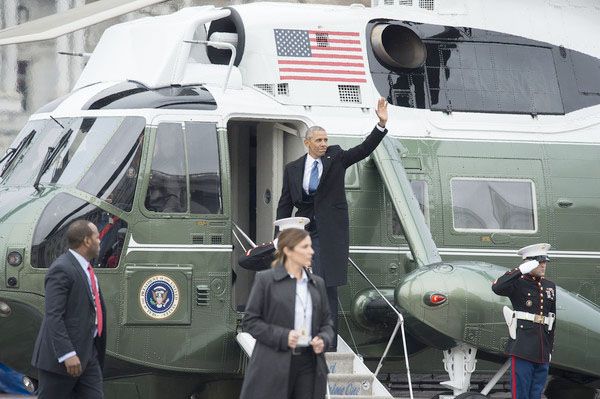 OK guys. It's really official now. Former President Barack Obama has officially wrapped up two terms as our Commander-In-Chief. Before leaving the inauguration today, he thanked all of his staffers for a job well done. Peep his speech, plus flicks of an empty White House after the Obama left last night inside…
It's official guys. Obama is OUT.
After leaving the presidential inauguration today, Mr. and Mrs. Obama boarded a military helicopter (above) to travel to Joint Base Andrews in Prince George's County, Maryland, marking the end of an incredible era.
Once they made it to their destination, the Obamas were met with roars and cheers from the staffers who helped them run the country for the last 8 years. The former president started off saying he would make his speech brief as he and Mrs. Obama has been bidding farewell to the nation for the last week or so.
Mr. Obama thanked the diverse group of staffers who have been right by their side since the beginning and those who put their lives on hold to help bring "hope in the face of difficulty."
"This has never been about us," he said."It has always been about you."
He also said "the work" is not yet done. "This is just a pit stop in the continuing story of building America," he said.
Peep his speech to his staffers below:
After his speech, Mr. and Mrs. Obama boarded Air Force One to make their way to a much-needed and deserved family vacay in Palm Springs.  They both posted from their new personal accounts (which were automatically transitioned from the official white house accounts) that they'll be back before we know it.
Last night...
The White House was a ghost town as the Obamas packed up their things to leave. Picture frames that featured pictures of the Obamas were taken down in the West Wing outside of the Oval Office. Offices where his staffers worked were empty. Just about all traces of the former president and his family and staff were taken away to new digs.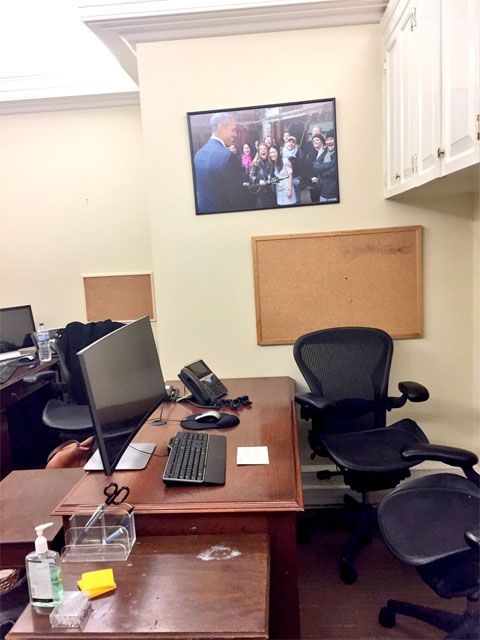 This wall in West Wing used to have Obama photos until earlier today. Oval Office can be seen down hallway. pic.twitter.com/3rcwifZDLy

— David Nakamura (@DavidNakamura) January 19, 2017
Just saw Marine leave station outside West Wing meaning @potus has left too. Offices empty, Obama photos off walls. pic.twitter.com/7NAKWeHdcw

— David Nakamura (@DavidNakamura) January 19, 2017
Before leaving, Mr. Obama left the new president a written letter in an Oval Office desk, following tradition. No word on what was written in the note, but if the new president follows tradition, he will likely release what was written on his last day of presidency.
*Tears*
#ThankYouObama!
Photos: Getty/David Nakamura