The dream internships keep trickling in! Former First Daughter Malia Obama will return behind-the-scenes in Hollywood after nabbing an internship with famed producer Harvey Weinstein. Get the details on her new super cool internship, plus deets and flicks of Malia's secret three-month trip to Bolivia and Peru inside…
Former First Daughter Malia Obama is having one helluva gap year after graduating high school last year. With her dad Barack Obama having just left the office of President, he's not the only one transitioning into a new role.
The 18-year-old just landed another super cool internship in Hollywood. She'll be working with Hollywood producer Harvey Weinstein over the summer, according to reports.
A source tells The Hollywood Reporter, Malia is expected to start working with the famed producer in February at the NYC office of The Weinstein Co. following the Obamas vacay in Palm Springs. No word yet on which department Malia will work in, but sources say she may be in marketing or development.
This isn't her first kick a** internship in Hollywood. In 2015, Malia worked with Lena Dunham's HBO series "Girls." She also worked on the set of CBS's "Extant" series, which starred Halle Berry, and she interned at the U.S. Embassy in Spain last year.
You'll recall, Mr. Obama's eldest daughter decided to take a year off after graduating high school. She'll start college courses in the Fall at Harvard University (like her mother & father did for law school).
Post-presidency life is looking good for the ultimate First Daughter Malia.
Before nabbing another cool internship....
Malia traveled to Bolivia and Peru under the radar for a three-month excursion back in November.
American Embassy officials told the Bolivian guides that an American dignitary would be joining them, but they had no idea who exactly they would be hosting. Apparently, when you're white and blonde that automatically renders you as "important."
"There was a blond girl and we assumed she was the important one," Gregorio Mamani, one of the guides, said in a phone interview with the NY Times this week.
It seems the guides didn't realize Malia was in their presence until now. "She was very humble, chatty, spoke Spanish very well," Mr. Mamani said. "She was mesmerized by the Bolivian landscape."
With security detail in tow, Malia traveled with a group on an educational trip to the Cordillera Real mountain range in Bolivia. The 83-day trip was organized by Where There Be Dragons, a Colorado company that runs educational trips. The exploration is described as means for students to "examine current political trends, social movements and environmental conservation efforts in the mountains and jungles of Bolivia and Peru."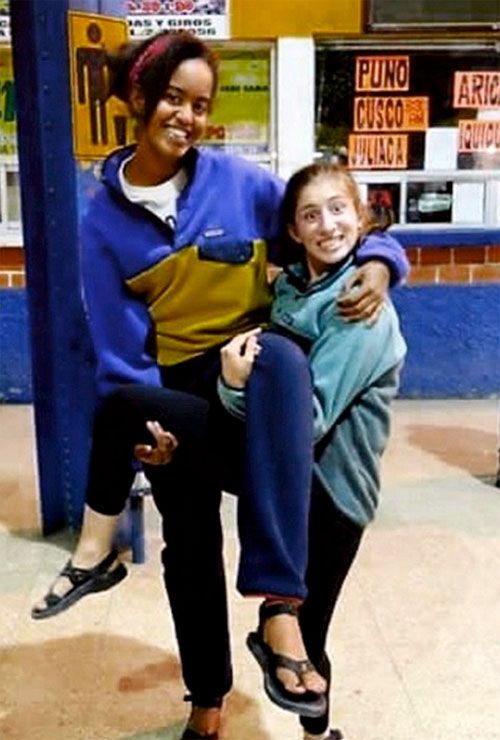 It's reported Malia lived with a family in Tiquipaya, a tiny town in central Bolivia. Mr. Mamani revealed Malia didn't receive any special treatment, performing chores, including cooking, with the group of travelers.
According to Bolivian media, former President Barack Obama called up President Eyo Morales to request for additional security, but the White House has not confirmed that to be true. Looks like she had fun though. Best wishes to Malia and her bright future ahead!
Photos: Bolivian Mountain Guides/ European Pressphoto Agency/Instagram