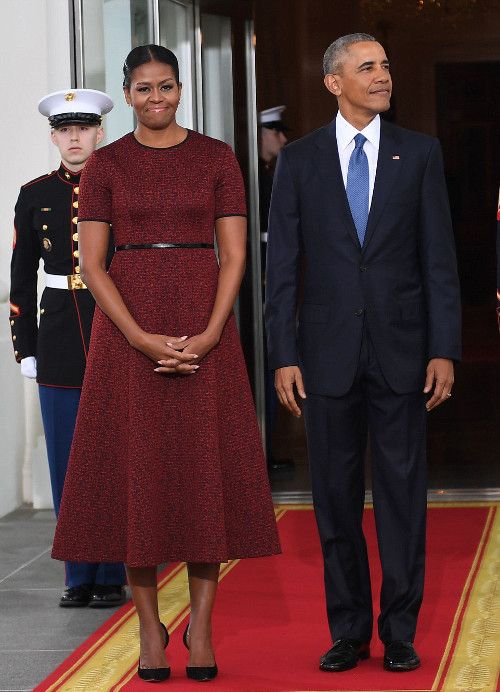 Former President Barack Obama and former First Lady Michelle Obama (ugh, it's killing us to type former) welcomed Donald Trump and his wife Melania Trump with smiles at the White House before Trump was sworn in on Capital Hill. Peep the flicks and videos inside…
Well, the day is finally here.  We're about all cried out.  And it's time to get to work for 2018 (to flip Congress and cut off the real carnage that is about to go down).
Donald Trump has officially been sworn in as our new president for the next four years. The only good thing that came from today's event is how classy and gracious our former President Barack Obama and former First Lady Michelle Obama were in welcoming the Trumps. The Obamas have been a class act this entire transition period, especially in the face of those (like the incoming Administration) serving up belittlement and condescension by the hour.
Before heading to Capitol Hill for the presidential inauguration, Mr. and Mrs. Obama welcomed Donald and Melania to the White House for tea and coffee. Former President Obama served up a few kisses to his wife before shaking Trump's hands as he walked up the steps to the entrance.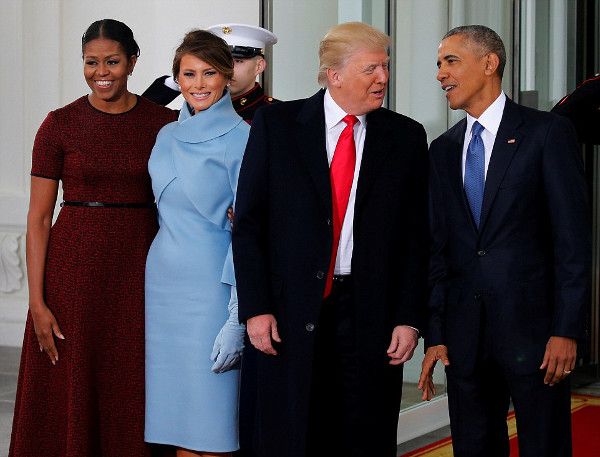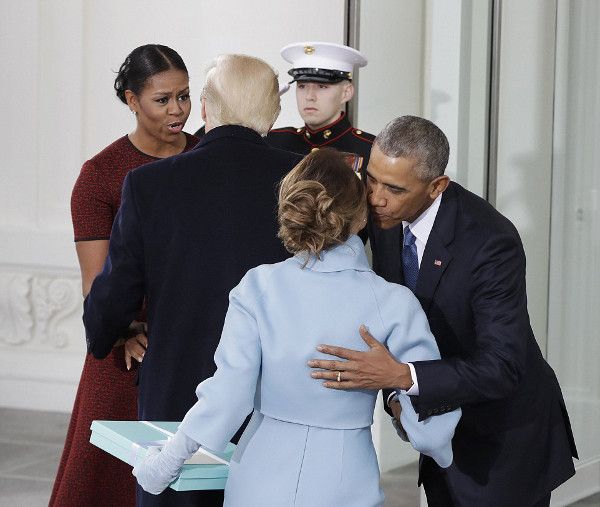 Mrs. Obama, looking gorgeous in a maroon belted midi dress, welcomed Melania with a hug and a kiss on the cheek. Meania came bearing gifts, handing Mrs. Obama a blue Tiffany box wrapped with a white bow. 
Check it:
The Obamas taught a masterclass in remaining graceful in the face of those who believe you are lesser than.
After their meeting, everyone headed to Captiol Hill for the inauguration...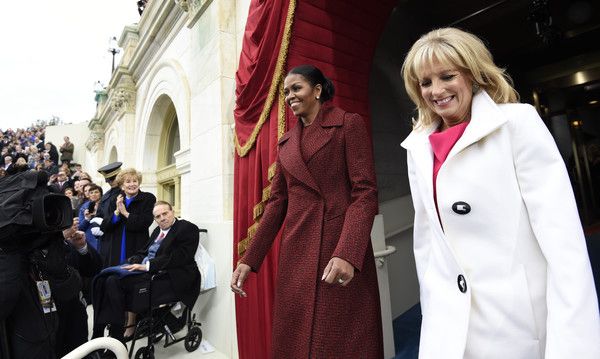 We're sure it was hard for Hillary Clinton, who lost the presidential election but nabbed the popular vote, to watch Trump be sworn in as president. It's also tradition for former presidents (like Bill Clinton) and their wives to attend.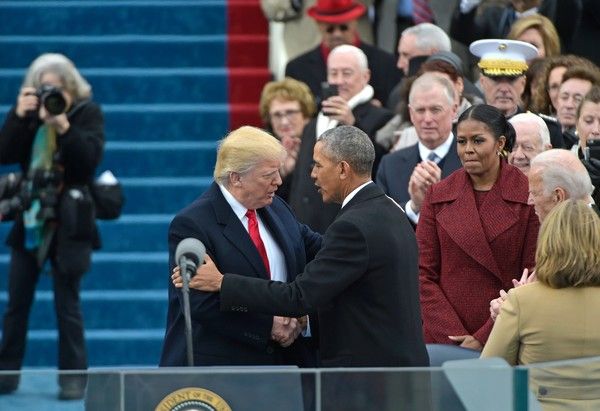 While the Obamas remained graceful throughout the ceremony, we did catch Mrs. Obama with that epic side-eye: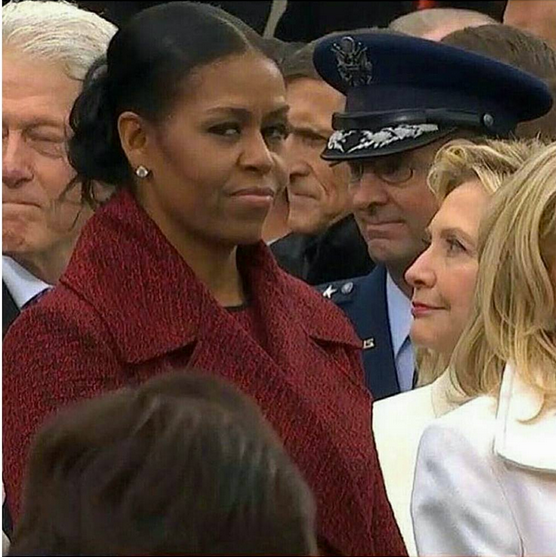 One last side eye for the books!
After the ceremony, the Obamas waved goodbye to Washington D.C. before heading to Joint Base Andrews where Obama spoke once again:
And below are former President Obama's last tweets as president. If you're following him on Twitter, no worries about adding his new Twitter handle. They transitioned the account to @POTUS44. Thankfully. The Trump Adminsitration will have to earn their own social media following.
Same for the White House's IG account.  It's now the @obamawhitehouse account:
Peep the tweets:
It's been the honor of my life to serve you. You made me a better leader and a better man.

— President Obama (@POTUS44) January 20, 2017
I won't stop; I'll be right there with you as a citizen, inspired by your voices of truth and justice, good humor, and love.

— President Obama (@POTUS44) January 20, 2017
I'm still asking you to believe - not in my ability to bring about change, but in yours. I believe in change because I believe in you.

— President Obama (@POTUS44) January 20, 2017
OBAMA OUT!
Photos: Getty/ AP/Reuters/AFP