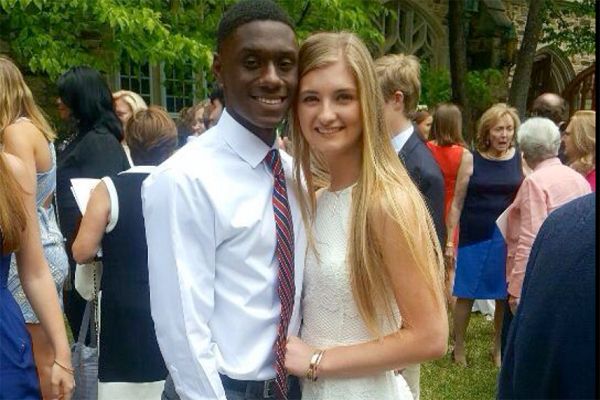 White teen Allie Dowdle claims her parents cut her off since she's dating a black teen named Michael Swift. So, she decided to launch a GoFundMe page in an effort to raise college funds. More inside….
A white Tennessee teenager created a GoFundMe page to raise money for college after her parents cut her off because she's dating a black teen. And get this, she has raised over $20,000 after starting the GoFundMe page on January 11th.
Apparently, her southern parents have an issue with interracial dating. Allie is a high school senior who attends a private school outside of Memphis. Allie claims about a year ago, she told her parents she was dating a black teen named Michael. Everything was cool until she showed them a picture of him.
On the campaign titled "Allie's Tuition - Say No to Racism," she writes,
"My dad did not give me an option: he told me that I was not allowed to see Michael ever again. Why? Strictly because of skin color. It wasn't a quiet "no," either. I'll never forget the yelling my parents did, when they expressed how disappointed they were in me, that I could do so much better. I did not know what to do. I couldn't comprehend how someone could be seen as less because of pigment. I still can't comprehend it, and I never will be able to."
The 18-year-old decides to continue to see Michael secretly all the while trying to convince her parents his skin color has nothing to do with who he is as a person. They weren't trying to heat that though. She said about a month ago, she and Michael tried speaking with her parents, but that made things worse.
Her parents strip her of everything and decide to no longer support her future. She claims they won't allow her to receive her personal savings and that they took her car, her phone and told her she has to figure out how to pay for college. And here we are.
While she's receiving some scholarship money and financial aid, she still needs $10,000 to cover the first year of her remaining tuition.  You know, the same dilemma most college students in America face yet figure out how to work and make it happen.
She says she can't work because she doesn't have transportation (since her parents took her car and we guess her privilege doesn't allow her to find a job on a bus route).  She says her dad is doing everything in his power to make it difficult for her as she's still living under his roof.
Allie's dad, Billie Dowdle, spoke with the New York Daily News about his daughter's GoFundMe page.  He claims that his concerns about dating Michael has "never been about race." Although, he claims his daughter dating a black man was not his "preference" because of interracial dating issues in the South. He claims he opposed the relationship because it was done in secret. Hmph.
Bille, who owns Dowdle Sports & Outdoors in Cordova, Tennessee, says he cut his daughter off because she's spoiled and says "it became obvious that she needed to go out into the world and grow up."
Meanwhile, Heavy.com discovered Michael Swfit is a former Philadelphia Union Major League Soccer player. He is attending Clemson University in South Carolina and is from Memphis, according to his Facebook page.
The Tigers draw with No. 6 Syracuse for their eighth shutout of the year and move to 9-2-4. #ClemsonUnited
: https://t.co/Gt6nynudwOpic.twitter.com/HSb3cyGNVd

— Clemson Men's Soccer (@ClemsonMSoccer) October 22, 2016
Excited to announce that I have committed to @ClemsonMSoccer and am looking forward to whatever comes next. #GoTigers

— Michael Swift (@michael_swift9) July 2, 2015
Folks in the comments section of Allie's GoFundMe page are confused as to how sending a white woman -- who is of age and who comes from means -- to college is combating racism.
Some of the comments read:
"Sending a white girl from a middle-class family to college is not fighting racism. In fact, expecting to avoid work, student loans, etc. and be treated like a hero for dating a black guy seems pretty racist to me.

"Nope. No, ma'am. Are you parents wrong? Yes. Will you spend the rest of your life with this man? Probably not. My son has student loans, so can you. Get to work, honey! That's what the American dream is all about!"

"I'm confused how this is against racism, like okay, I get her family cut her off because of the skin color of the guy she was dating, but besides that, I'm not really sure how sending a white female to school is against racism? Like how is her going to school benefiting anyone in the black community...it's wonderful she wants to get an education by the title is slightly misleading."

"Poor baby. What a manipulator! She doesn't need a handout--she needs to move out, get a job, support herself, join the military for the GI Bill--and become an adult. Teach her how to fish, don't give her a fish. Why her parents cut her off, whatever the real story is, is immaterial to the rest of the world. She needs to grow up. Racism is horrible, and should always be condemned. I, however, chose to send my dollars for charity to a hospital in Chad serving people with no other access to health care, not to a spoiled child to go to a private university."

"STOP DONATING MONEY TO THIS SPOILED BRAT! RESEARCH THE STORY! HER PARENTS GO TO CHURCH WITH A BLACK PASTOR. SHE WAS SNEAKING OUT AND BREAKING HER PARENTS RULES!!!"
We would have to agree with some of the comments. While her daddy might be dead wrong, welcome to the real world Allie.  But maybe this is her way of "making a way."
Needless to say, Allie has raised over $20,000 so far. We all know America turns into putty behind a blonde victim.  Go figure.
Thoughts?