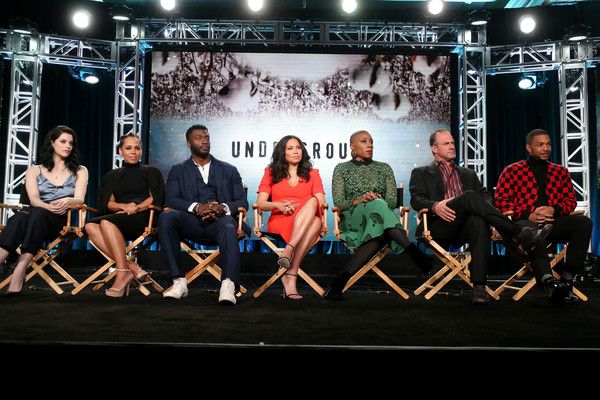 Season 2 of "Underground" is going to be EXPLOSIVE. Check out the brand new teaser, plus details on an upcoming Michael Jackson biopic, Viola Davis' new film and Queen Latifah's new game show inside…
WGN America is gearing up to premiere season 2 of their hit series "Underground." And the first sneak peek will have you like....
The cast hit up today's TCS panel to debut the trailer.
Season two will serve up 10 new episodes of the hour-long series that will follow the struggle for freedom within a divided America on the brink of civil war, each side vying to enact their own justice.
Set in the aftermath of the Macon 7's daring attempt to stage the greatest escape in history, this group of American heroes continues on their harrowing journey to freedom, with legendary abolitionist Harriet Tubman.
Brace yourselves and check it out below:
WOW! 
"Underground," which earned the network its highest ever primetime ratings gains, stars Jurnee Smollett-Bell, Aldis Hodge, Jessica de Gouw, Alano Miller, Christopher Meloni, Amirah Vann and Marc Blucas– all pictured atop excluding Marc. The cast hit the stage at the 2017 Winter TCA press tour to chat it up with reporters about the new season.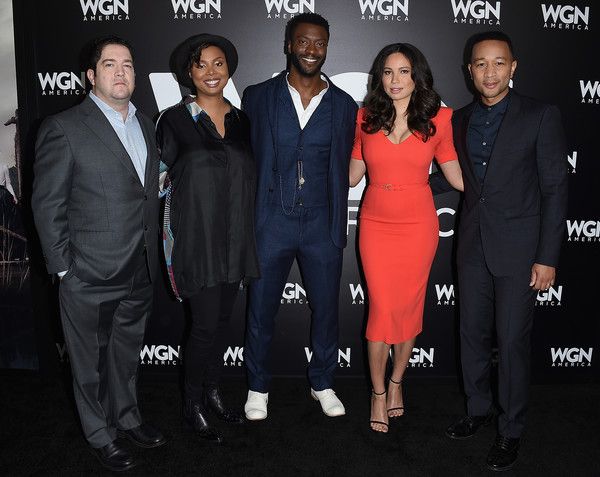 This season guest star Aisha Hinds (below in green) will play the pioneering role of Harriet Tubman. Oscar and Golden Globe winner John Legend (above) will play renowned abolitionist Frederick Douglass and guest stars Jasika Nicole, DeWanda Wise, Michael Trotter, Jesse Luken and Sadie Stratton will join the cast this season.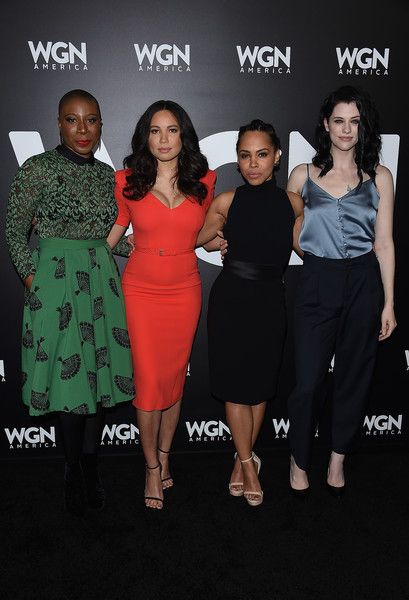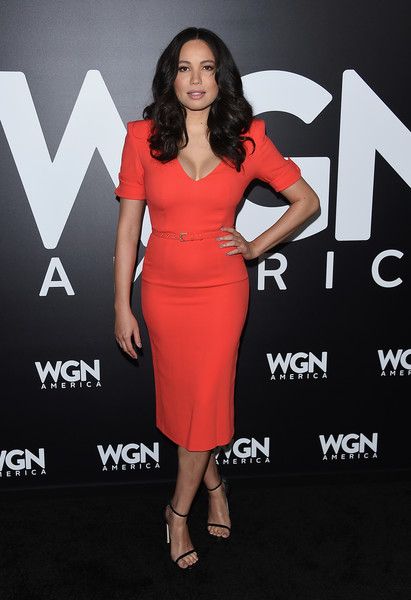 New mom Jurnee shows off her post-baby curves in an orange midi dress after giving birth to her son, Hunter Zion Bell, in November.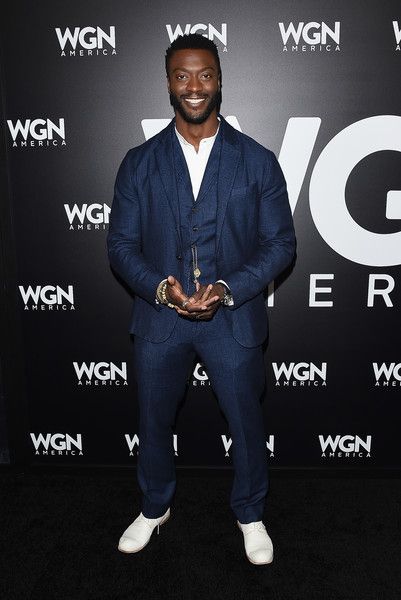 Looking good Aldis and John! 
Season 2 of "Underground" premieres March 8th at 10pm EST on WGN America.
In other TV news...
LIFETIME is gearing up to release a new biopic about the late Michael Jackson. Yes, this is really happening.
"Michael Jackson: Searching for Neverland" is the working title and its being executive produced by Suzanne de Passe (who's currently working on a miniseries about Marvin Gaye). Suzanne also produced "The Jacksons: An American Dream" miniseries.
According to Deadline:
Michael Jackson: Searching for Neverland, slated for a February production start date, is based on the best-selling book, Remember the Time: Protecting Michael Jackson in His Final Days. Told through the eyes of the King of Pop's bodyguards, Bill Whitfield and Javon Beard, the film will star Navi in his acting debut, alongside Chad L. Coleman (The Walking Dead) as Whitefield. Suzanne de Passe, Madison Jones and Robert Teitel are executive producing. Searching for Neverland is produced by Silver Screen (The Craigslist Killer). Dianne Houston is directing from a script by Elizabeth Hunter (Beauty Shop).
We know LIFETIME biopics can be hit or miss, but hopefully it'll be good since Suzanne's name is attached to the project.
The Michael Jackson biopic will premiere February 18th.
Speaking of LIFETIME movies...
Golden Globe winner Viola Davis also has a new TV film in the works that she's producing (along with her husband Julius Tennon) and starring in. It's titled "Custody" and it will be written and directed by Tony Award and Pulitzer Prize winner James Lapine.
Deadline reports:
The cast also includes Hayden Panettiere, Catalina Sandino Moreno, Ellen Burstyn and Tony Shalhoub. Custody revolves around three women brought together when hard-working single mother, Sara Diaz (Moreno), has her children taken from her after she is suspected of injuring her son. Ally Fisher (Panettiere), a recent law school graduate, is assigned to represent her case before Judge Martha Schulman (Davis), a veteran of the Family Court System. Lauren Versel, Katie Mustard, Lapine and Roy Furman serve as producers. Davis, Julius Tennon, Jeff Elliott, Chad Moore, Gregory P. Shockro, Daryl Roth and Sandy Robertson executive produce.
"Custody" will debut on Saturday, March 4th on LIFETIME.
Queen Latifah is working with LIFETIME on a brand new unscripted series.
The award winning actress and her Flavor Unit partner Shakim Compere will executive produce "The Pop Game." The series will follow record producer-singer-songwriter Timbaland as he works with five aspiring young vocal artists, all vying to be the next big thing on the charts.
The artists will work with Timbaland's of writers, producers and top celebrity guest artists including JoJo, Macy Gray, Nelly Furtado and Jordin Sparks. They will assist the kids and their manager parents in challenges designed to teach and test the skills they will need to grace some of the world's biggest stages.
Interesting.
"The Pop Game" premieres February 21st at 10pm EST on LIFETIME.
Photos: Getty