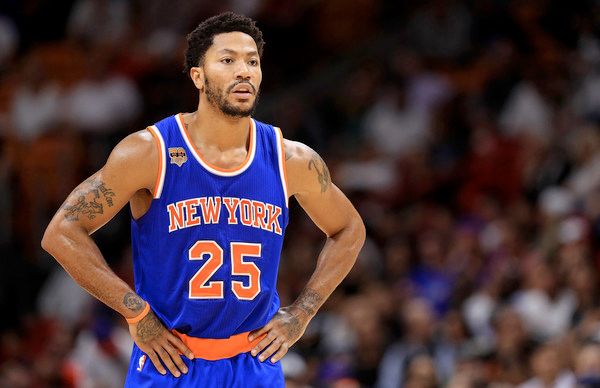 Everyone's wondering where Derrick Rose has gone? He was M.I.A. at the NY Knicks games vs. the New Orleans Pelicans last night and no one knows where he is. More inside…
Where is Derrick Rose?! That's the question that was on everyone's mind inside Madison Square Garden last night, including his coaches and teammates.
NY Knicks star point guard Derrick Rose was a no-show, no-call at last night's game against the New Orleans Pelicans. They could have used him too. The Pelicans defeated the Knicks 110-96, making it the Knicks' eighth straight lost.
Derrick was absent from the game and officials didn't have a clue where he was. Now, new details on his disappearance are emerging.
According to ESPN, Derrick had some family issues he needed to tend to in his hometown of Chicago.  He also was in contact with Joakim Noah and a few others by the end of the game.
Knicks point guard Derrick Rose went missing from the team Monday without permission but later reached team officials, telling them he had a family situation and had returned to his hometown of Chicago, sources told ESPN.

Rose missed Monday night's loss to the Pelicans, and the Knicks had grown concerned enough earlier to check on him at his apartment, sources said.

Publicly, the reasons remained a mystery after the game, with coach Jeff Hornacek saying "everything will become clear later on" and teammate Joakim Noah saying Rose was OK.

"I mean, I don't really want to talk too much about it because I don't really know what the situation is," said Noah, who has played with Rose since 2008 as his teammate in Chicago before coming to New York along with Rose prior to this season. "Obviously Derrick is one of our better players. And when he is not here it is tough. But I am just happy that everything is OK with him."

When asked if Rose's health is OK in light of his absence, Noah replied, "Yeah. He's OK ... I think it's a relief for all of us."
We've learned his ex Mieka Joi and their son PJ were on a flight back home from vacation last night. Mieka was posting like normal on social media.
We hope his family is OK.
Photo: Getty