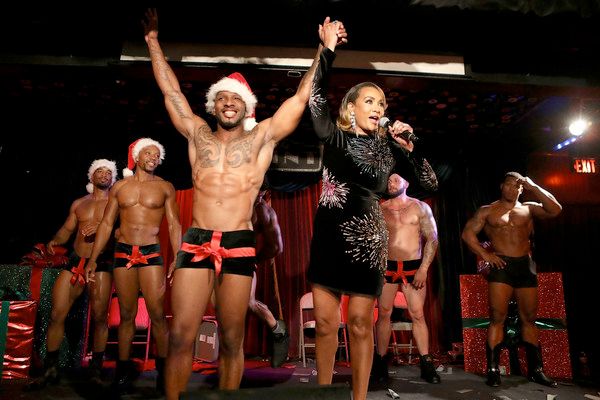 "Black Magic" producer Jean-Claude LaMarre is DONE working with Vivica A. Fox on the male stripper series over homophobic comments she made recently. Find out what ticked him off, plus hear Mariah Carey's side about the botched NYE 2017 performance inside….
There's drama brewing between Vivica A. Fox and "Black Magic" director/producer Jean-Claude LaMarre and the show just premiered last week. The show is a spin-off of Chocolate City.
Making rounds on the promo trail, the YBF actress hit up Power 105's "The Breakfast Club" with two of the show's stars a few days ago. The radio hosts wanted Vivica to clarify if her dancers put on shows for gay men. And her response has folks, including her producer, up in arms.
DJ Envy asked "Black Magic" exotic dancer Penetration if he would dance for a gay man and Vivica chimed in,"Oh, hell naw!"
Charlamagne inquired further and Aunt Viv responded,
"Because There's no need to. They dance for women. It's called the ultimate girls' night out for a reason."
Welp.  Check it at the 2:50 mark:
Today, director/executive producer Jean-Claude LaMarre, who put Viv in his movie 'Chocolate City,' had some ish to say.  He didn't appreciate her comments.
"The comments were out of order, and it does not represent our attitudes toward the LGBT community," Jean-Claude told TMZ. "All are welcomed. Vivica speaks for herself, not the business of the show."
Jean-Claude revealed he will remain the executive producer for the show, but he made it clear he never wants to work with Vivica again.
Fans took to Twitter to question the Independence Day star about the comments she made on the radio show and here's what she had to say: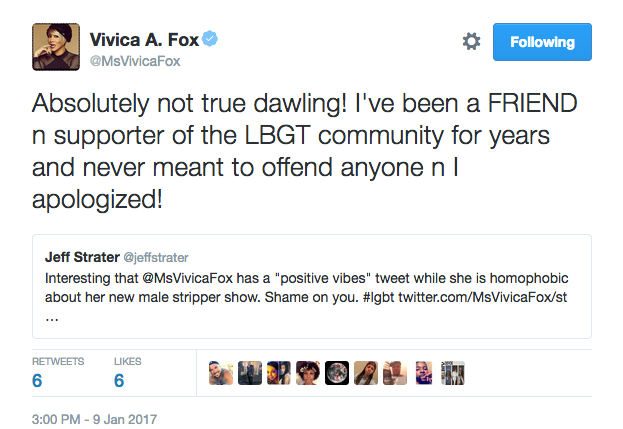 We reached out to Vivica for a response and her camp replied, "No comment."
Another diva speaking out....
We all seen Mariah Carey's tragic NYE 2017 performance crumble before our eyes. Her camp didn't waste any time to point the blame at Dick Clark Productions for technical difficulties. They even went so far to accuse the production company for purposely sabotaging her set, although Dick Clark productions denied any wrongdoing.
Well, it seems MC feels the exact same way as her camp. She posted up two Instagram videos telling her side of what went down in her own words.
She said it's not practical for a singer to sing live and be able to hear themselves properly in the middle of Times Square with thousands of people screaming, freezing weather (it was 50 degrees), smoke from the smoke machines, especially when their ear pieces are not working.
"They foiled me. Thus, it turned into an opportunity to humiliate me and all those that were excited to celebrate the New Year with me."
She said,"my feelings are hurt, but I'm working through this."
The Grammy Award winner said she plans to take a break from "media moments and social-media moments" as she prepares for her upcoming tour in March.
Take a listen above and below:
Photos: Getty