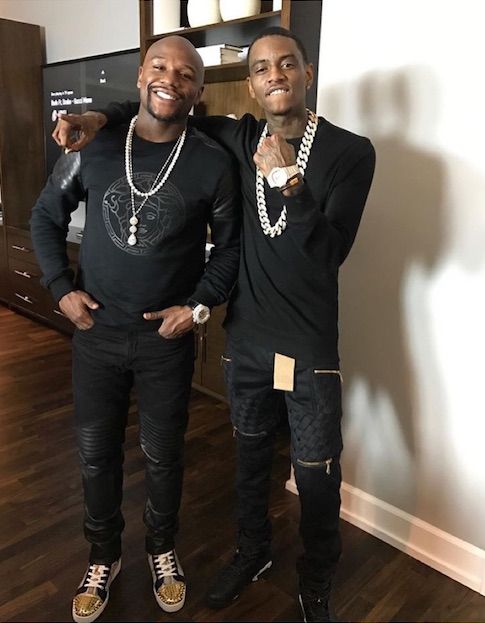 So much for that apology and "I've seen the light" speech Soulja Boy gave yesterday.  He's right back at his petty antics, and now he's dragging Chris Brown's baby girl Royalty and her mother into it....
Soulja Boy just did the ultimate petty ish.  He went and dragged Chris Brown's daughter Royalty and baby's mother Nia Guzman into this messy beef. 
There were rumblings that Chris & Soulja would take their twitter beef to the boxing ring, and now it's confirmed. 
Soulja is apparently training with Floyd Mayweather, who is supposedly behind the match:
And he's got little Royalty and Nia on his team too.  Messy AF.
Nia happily posted a pic of Royalty after the visit while tagging Floyd and The Money Team
And Soulja happily re-posted it to throw in Chris' face.  Nia may not be the only ex of Chris' there.  Soulja said he invited Rihanna and Karrueche too:
So petty.
Chris confirmed the boxing match while blaming the public for "tuning into negativity."  Yes, the negativity HE voluntarily provided PUBLICLY.  GTFOH.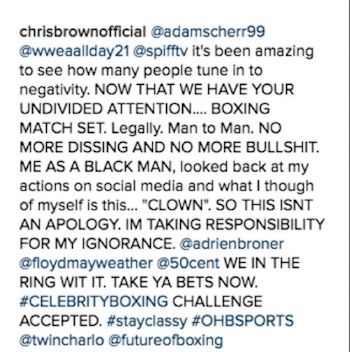 So will this end up on Pay Per View?    
 
There's a few people who are here for this match. 50 Cent and Metta World Peace chimed in saying:
I much rather see @chrisbrown and @souljaboy fight in a controlled environment (boxing ring) than in the streets.
Better for our community.

— Metta World Peace (@MettaWorldPeace) January 5, 2017