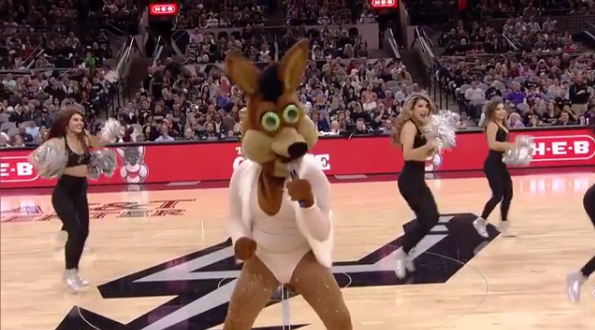 Get your laugh on at the Spurs' mascot shading Mariah Carey's disastrous NYE performance, plus a sneak peek at Mimi's steamy new episode of "Mariah' World" inside…
The San Antonio Spurs coyote mascot put on quite a show during last night's game against the Toronto Raptors.
It appears Mimi's tragic NYE performance is still making waves, not only in the headlines, but at sports games. Earlier this week, the Indiana Pacers debuted their "Lip Sync Cam" where they panned the camera on fans while playing Mariah's "Emotions."
Now, the Spurs are getting in on the action.
Decked out in a nude leotard and sparkly panty hose, the Spurs coyote took center stage to lip sync "Emotions" (the same song Mimi fumbled), before exiting stage left after experiencing microphone issues. The Spurs' official Instagram account captioned the clip,"Something wrong with your mic, @spurscoyote?"
Savage!
Check it below:
Hilar!
Meanwhile...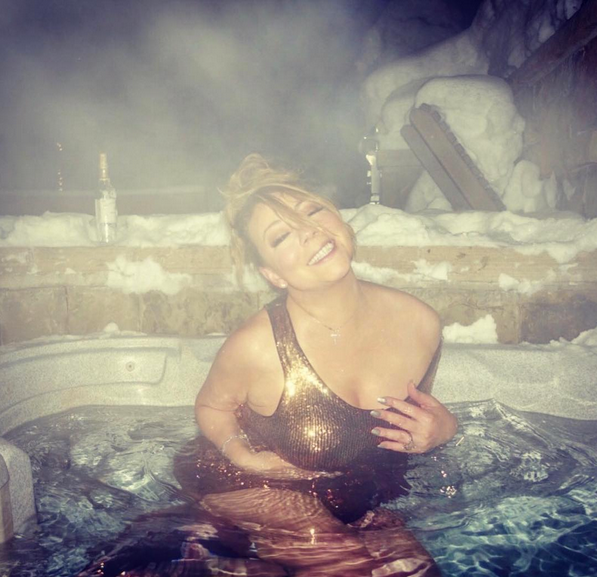 Mariah Carey posted up this steamy hot tub shot during her holiday festivities in Aspen last week. We're surprised her boy toy Bryan Tanaka hasn't flooded her Instagram yet.
In the new teaser for the next episode of "Mariah's World," the Grammy Award winner and her back up dancer share a passionate kiss by the water after she contemplates if she really wants to marry her now ex-fiancé James Packer.
"Are you really going to marry this guy?" Bryan asks.
"Why?" Mariah replies. Bryan assures her he just wants her to be happy.
"I don't even know anymore," Mariah tells Bryan.
She concludes, "No matter what happens, I'm going to follow my heart." 
In the clip, we also see cute scenes of Mariah's ex-husband Nick Cannon joining in on the fun with their twins Roc and Roe.
Check it below:
Tune in to a new episode of "Mariah's World" on Sunday at 9pm EST on E!
How...convenient.
Photo: Spurs' IG/Mariah's IG