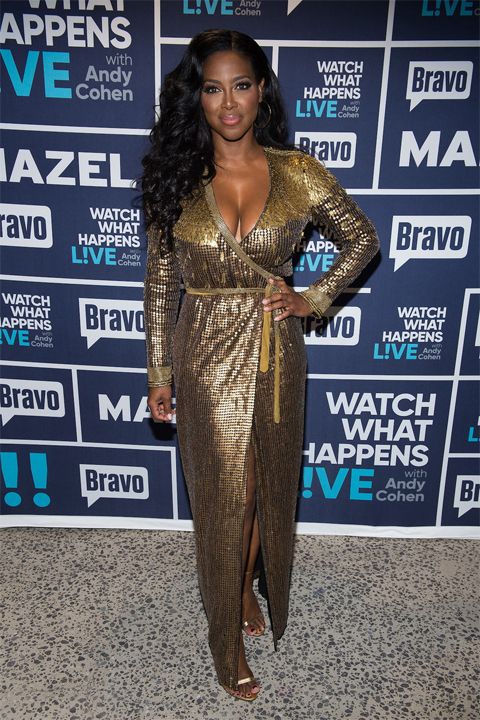 Kenya Moore stepped into the new clubhouse for an appearance on "Watch What Happens Live" and she was her usual shady self.  Funny, but shady. Get all the juicy deets inside….
It was all about the barbies last night.  Your favorite reality 'bad girl' was on 1,000 last night.
"Real Housewives of Atlanta" star Kenya Moore, rocking a gold DVF dress and Tom Ford shoes, made her way to the new and improved clubhouse to chop it up with Andy Cohen and "Real Housewives of Beverly Hills" star Erika Jayne. Ugh, we love Erika.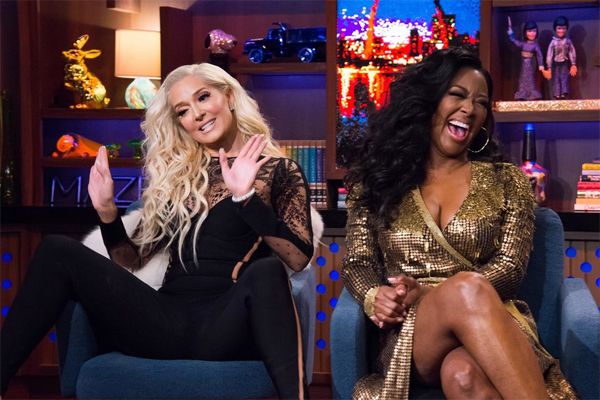 The former Miss USA dished on the situation where trespassers stepped on her doorstep resulting in her having to whip out her gun. She confirmed the gun she showed off on Instagram was loaded and that she's licensed to carry in the state of Georgia.
"Listen, if some crazy MFs have the nerve. I have a gated property. They did so many things that were asking for it. Not only to be shot, but an a** whooping. They're just lucky they didn't get both. When you come on my property, I have the right to defend myself."
With so much drama brewing between her co-stars Kandi Burruss and Phaedra Parks, you know Miss Moore had to give her 2 cents on the situation. You'll recall, Phaedra claims Kandi has had threesomes with her friend Shamea and her husband Todd Tucker.
"One thing I know about Kandi, she's one to tell the truth. She's never one to lie. She didn't lie about her pregnancy; she didn't lie about phone calls to Cynthia. We've caught Phadra in several lies and Kandi has been truthful on the show from the beginning. "
Kenya went on to shade Phaedra saying, "She's like a slippery, greased pig." Damn!
So does she believe something is going on between Kandi and Shamea? Nope. She did talk about Mr. Chocolate (Phaedra's alleged fling) though.
For the preview of the next episode, we see Kenya's man Matt causing some drama with people as he looks for Kenya at an event.
Kenya, by the way, confirmed she's 100% done with him. Especially since he seemingly already has a new chick. Welp, there's that!
Oh, and she also spilled some tea saying Sheree STILL has not moved into Chateau Sheree. Bloop!
Peep the clips below:
Meanwhile, Marlo Hampton was tuned in to the show last night and had THIS to say:
You know how that goes that Friend word on this show I want to know for real though friend or not. https://t.co/klSqUKGVcC

— Marlo Hampton (@iheartMarlo) January 4, 2017
Ma'am....
Photos: BRAVO