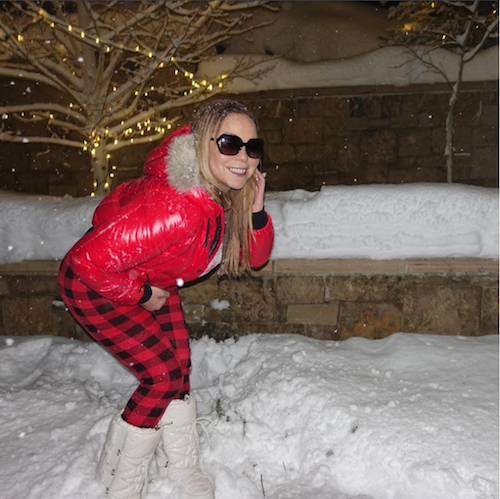 Oh Mariah.  You never cease to amaze us with your talents.  And by talents, we mean dropping major cash at a weed dispensary on Christmas Eve in a "gown and sunglasses" disguise.  See it all inside....
We knew there had to be something up with Mariah's New Year's Rockin' Eve performance debacle, more than just an alleged earpiece fail.  Now we've learned she made her way to one of the most expensive weed dispensaries ever in Colorado just days before her performance.
Recreational weed use (and purchasing of up to 1 ounce/transaction) is now legal in Colorado. Mariah has been spending the Holidays there every year for like, ever.  So when in Rome...
TMZ reports Mariah walked into a local pot shop called The Original Leaf more than once over the Christmas weekend.  Paps caught her entering one time in a green floor length gown, a ski hat and shades. (Check out the pic HERE.)
Reportedly, she bought a very popular strain called Amafu, which will set you back $400 an ounce!
Meanwhile, Jenny McCarthy let her HAVE IT during her podcast Tuesday. Jenny was one of the co-hosts for New Year's Rocking Eve, and once Mariah blamed Dick Clark Productions for the tragic fail that was her performance, Jenny spilled all the tea.
She said MiMi didn't actually do the sound check (she had a stand-in do the heavy lifting for her) and she simply doesn't have it anymore, yet she chose to sing the tough song "Emotions." Damn.