Don't mess with Kenya Moore! She's trained and ready to go. Go inside to see the pics and videos of Kenya popping off on trespassers who popped up at her doorstep…
Before 2016 closes, Kenya Moore had to pop off one last time.
According to the "Real Housewives of Atlanta" star, three people climbed her security gates at Moore Manor, walked up to her front door and knocked on the door. She said she does not know the trespassers and that they knocked on her door saying "Hi Kenya!"
First, she posted a picture of herself while holding her gun, but she eventually deleted it (seen above). Following the picture, she posted up two video clips going OFF on the people who showed up on her doorstep.
Peep the clip:
In the next clip, she threatened to shoot anyone who decides to show up at her house unannounced. "If you come over here, you're going to get a cap in your motherf*cking a**!," she warned. Peep the clip:
Lordt!
The former Miss USA then posted up pictures from her security video footage and offered up a $1,000 reward if anyone could identify the people captured in the shot: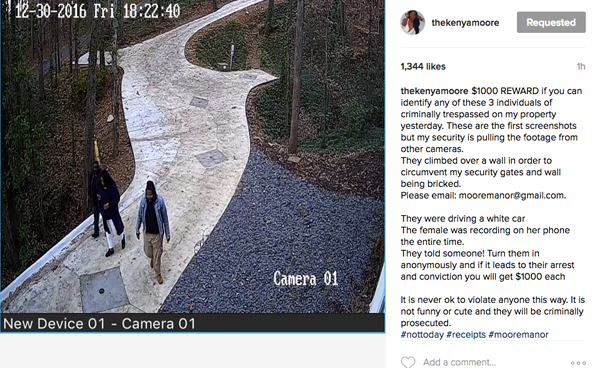 A woman who claims to have rode past Kenya's home says the reality star is lying and is totally exaggerating the story:
Who do you believe?
Photos: Kenya's IG/Fameolous' IG