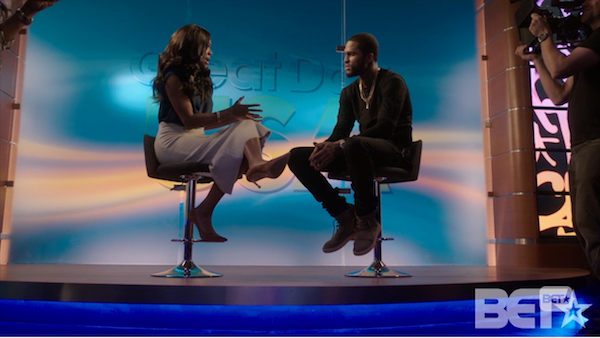 "Being Mary Jane" is just days from returning for season 4.  We've got a sneak peek at the premiere inside....
Mary Jane Paul has moved to NYC and is officially a morning show host.  Now that
she's settled that lawsuit with BET
, Gabrielle Union is back as the media HBIC who's killing it with her career but not so lucky in love.
We've got the first sneak peek at the premiere where cutie rapper Dave East guest stars as himself.  He gives a little performance of his song "KD" from 2015's Hate Me Now.
Here's what else to expect from the brand new season:
In season four, when Kara (Lisa Vidal) helps her land a gig as correspondent on Great Day USA, a national morning news show in New York City, Mary Jane Paul makes the move to achieve her lifetime career goal of becoming a national lead anchor. At Great Day, Mary Jane meets her idol, veteran lead anchor Ronda Sales (Valarie Pettiford), and realizes that working closely with your heroes isn't all it's cracked up to be. Things are further complicated when her old nemesis, Justin Talbot (Michael Ealy), appears as a new producer. Along with the new job and city, Mary Jane resolves to start fresh in every way possible, including her love life. She quickly falls for Lee Truitt (Chiké Okonkwo), a successful stand-up comedian from the UK who tests Mary Jane's preconceived notions about what (or who) she needs in her life. Back in Atlanta, the Patterson's deal with the fallout from Niecy's (Raven Goodwin) run-in with the police. With Mary Jane in New York, they grow closer as they realize their new roles within the family and do what they can to step up to the plate for one another.
Season 4 premieres Jan 10 at 9P/8C on BET.