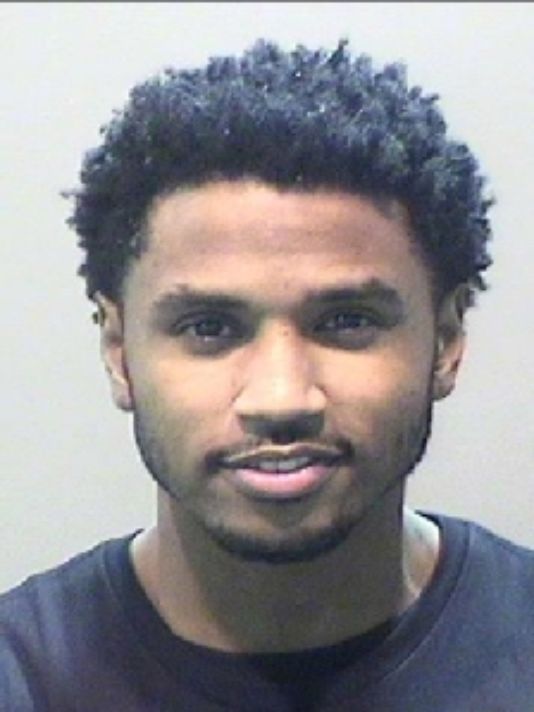 Trey Songz was way too turnt in Detroit last night, and he ended up arrested!  Deets on the foolishness he's been charged with and his mugshot below...
UPDATE:
2:44 ET: Trey Songz has been charged with felony assault on a police officer after refusing to leave the stage, becoming "irate" and causing a head injury to a policeman as his performance ended Wednesday night at Joe Louis Arena, authorities said.
Neverson hit an officer with his fist, causing a concussion, after the officer went to arrest him, according to the prosecutor's office. Detroit police officer Dan Donakowski said the officer, a sergeant, was taken to a local hospital, where he treated and was released.
------------
Trey tried to warn the venue heads that if they cut off his mic, he would act a fool.  And that he did.
Trigga was performing at The Joe in Detroit last night for the fourth annual Big Show (alongside Chris Brown and others) when he was informed his show was going over the time limit.  He had taken the stage at 11:30p.  So the VA native hopped on the mic and started singing the equivalent of "I wish a mf'er would":
Then, the venue called his bluff and actually cut off this dude's mic.
He proceeded to tear up the stage -- the drummer's screen, the mics, everything. He ended it all by hopping into the crowd:
After all the foolishness, Detroit police confirm they put him under arrest after his "violent outburst."
Now, he's been hit with a couple assault charges after police say he punched a cop!  He's still being held in jail at the Detroit Detention Center.
Detroit News states:
Wayne County Prosecutor Kym Worthy announced charges Thursday against Tremaine Neverson, 32: one count of assaulting a police officer causing injury, and one count of aggravated assault. He was arraigned before Magistrate Dawn White and given a bond of $25,000/10 percent, court records show.
A cop form the "Gang Intelligence Unit" -- really? -- states this is how it all went down:
Officers from the Gang Intelligence Unit who were detailed to the show came on stage, trying to calm the situation, but the artist allegedly kept throwing objects, one of which hit someone in the head. When a Detroit Police Department sergeant approached Songz to arrest him, Songz allegedly punched him, causing a concussion, according to the Wayne County Prosecutor's Office. Medics transported the sergeant to an area hospital, where he was treated and since has been released, police said.
Trey's due back in court in Detroit, Frank Murphy Hall of Justice, for a probable cause conference Jan. 5 at 8:30 a.m. and a preliminary examination on Jan. 11.
He has another show in Chicago at the United Center this Friday.  No word on if he'll make that.
When Chris Brown is the calm one on the bill....2016 is still full of surprises.
Photo: Detroit Police Department