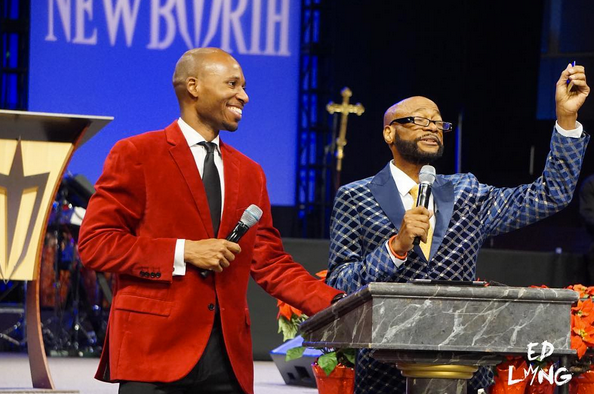 New flicks of Bishop Eddie Long have surfaced and he looks drastically, frighteningly thin. More inside…
Over the Christmas holiday, Bishop Eddie Long returned to the pulpit before his congregation at the New Birth Missionary Baptist Church in Lithonia, Georgia looking alarming different. Much thinner then the last time we saw him a few months ago.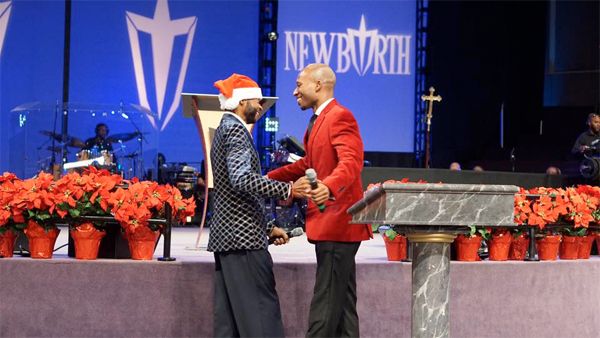 For the Christmas ceremony, the megachurch pastor joined his son Edward in the pulpit for a joint sermon.
Back in October, Bishop Long revealed he had been suffering health issues, but he assured his congregation he had been healed. He received tons of backlash because when he first showed off his slimmer physique, he credited it to going on a vegan diet and ditching the "slave menu."
Later, he confessed to his congregation during his pastoral anniversary on October 9th,
"I've been on a journey and just re-calibrating myself. And like I said, I had some health issues and God has healed me. The manifestation is coming through and we stand in that."
There were rumors that Bishop Long was in hospice care, but his assitant denied the reports.
"No, not ever in hospice! Currently, not accepting calls but thanks for verifying the rumor," Elder April McLaughlin told the Christian Post earlier this month.  She added he was "doing well."
The New Birth Missionary Baptist Church pastor never revealed exactly what health issues he's currently battling, but they appear to be taking their toll.
Photos: Eddie Long's Facebook/@iamedwardlong via Sam Jones