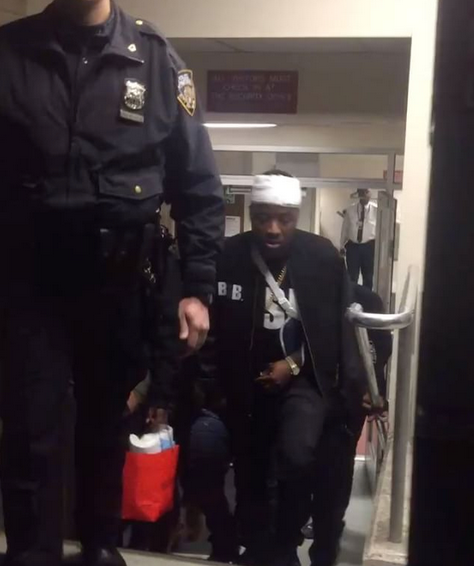 Troy Ave has been released from the hospital after getting shot multiple times on Christmas Day and he's speaking out about the incident for the first time. Get it all inside…
Rapper Troy Ave has been released from the hospital after being shot on Christmas Day. This is the 2nd time the rapper has been shot this year, following a shoot out at a T.I. concert earlier this year.
The shooting occurred in his hometown of Brooklyn when Troy and his girlfriend pulled up in a red Maserati before dinner with family. According to reports, a man in a hoodie walked up to his vehicle and began shooting in the driver's side window, shooting Troy in the arm and grazing his head.
Troy was released from the hospital yesterday (December 26th) and he's speaking out for the first time about the scary situation. Talking to REVOLT, he gave an update on his injuries and thanked God for keeping him here.
"To be honest man I got a bullet still in my head and another one lodged in my back," he said.
"Words can't describe how blessed I feel to be here. To all the fans, just ride with ya boy. Keep me in prayers and play my music loud."
He even plugged his new mixtape saying, "Spread the word bout that #WhiteChristmas4 mixtape cause that's my gift to yall!," he added."I was given the gift of life. Yours truly Dope Boy Troy."
While in the hospital, 50 Cent stopped by to visit him to update fans on his condition. The suspect is still at large.
 
The NYC rapper (government name Ronald Collins) was out on a $500,00 bond from the shooting earlier this year. He was arrested and charged with attempted murder and criminal possession after he was caught on surveillance video shooting a gun during the T.I. concert at Irving Plaza back in May.
He accidentally shot himself in the leg and his longtime friend Ronald McPhatter was shot in the stomach and pronounced dead at Beth Israel hospital. In August, Troy Ave filed a lawsuit against Live Nation and Irving Plaza for failing to search VIP attendants in the venue.