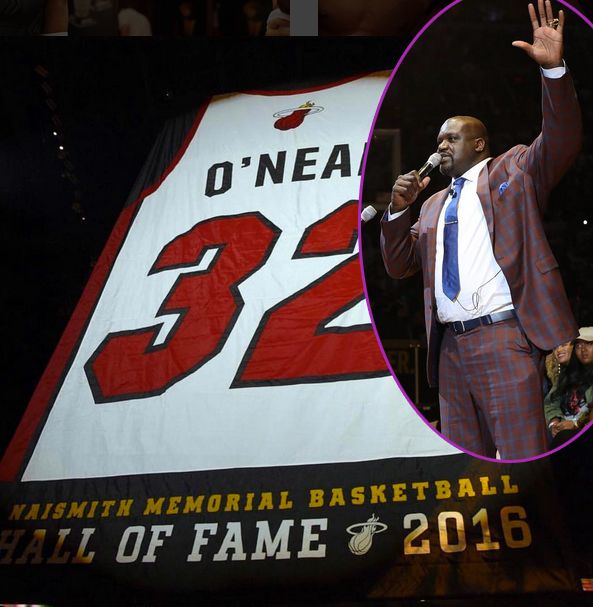 The Miami Heat retired Shaquille O'Neal's No. 32 jersey last night. And his mom made a surprise entrance in a "Diesel Power" 18-wheeler truck in honor of Shaq's arrival to the team in 2004. Get it all inside…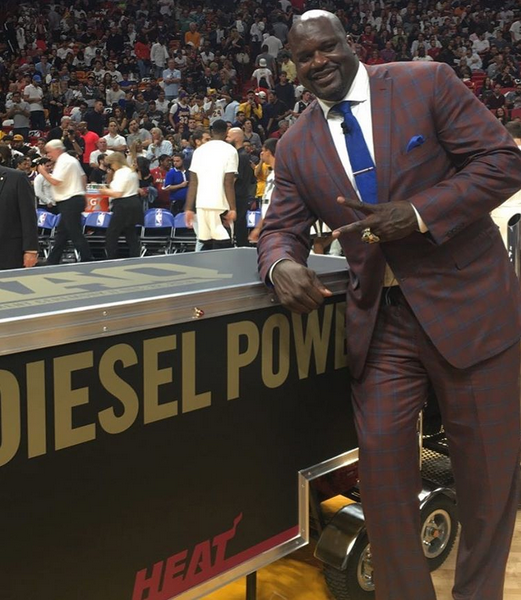 Shaquille O'Neal had his 2nd NBA jersey retired last night. His Miami Heat No. 32 jersey was hoisted to the rafters at the AmericanAirlines Arena where it will hang alongside fellow Hall of Fame center Alonzo Mourning (No. 33) and guard Tim Hardaway (No. 10). His Los Angeles Lakers jersey has already been retired.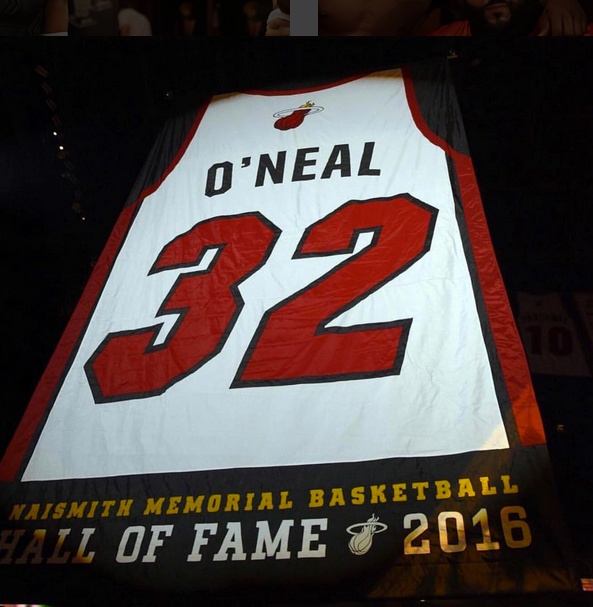 During his time with the Heat (2004-2008), "Shaq Diesel" was able to help the organization win its first NBA championship in 2006. When he arrived in 2004 after being traded from the Lakers, the NBA baller rolled up the arena in an 18-wheeler with "Diesel Power" written on the side. Thousands of fans were outside of the arena to greet him. He made a promise to those fans that he would bring home a championship. And that's exactly what he did.
In honor of his entrance to Miami, his mom Leslie O'Neal rolled into the arena in smaller replica of the "Diesel Power" 18-wheeler truck during the halftime ceremony and totally caught Shaq off guard. Check it below:
Ha!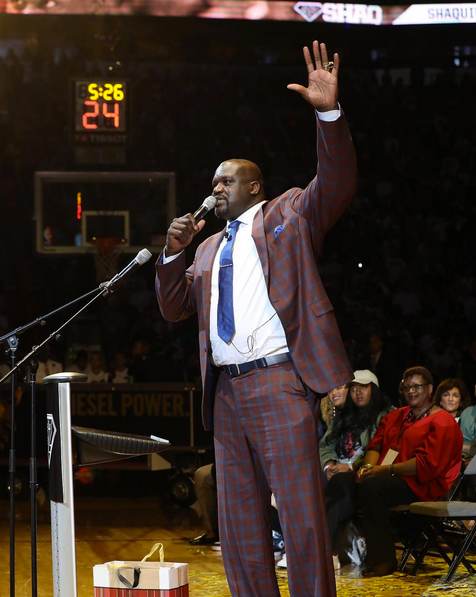 By the way, last night's game was between the Heat and the team that traded Shaq, the Lakers. The Heat won 115-107.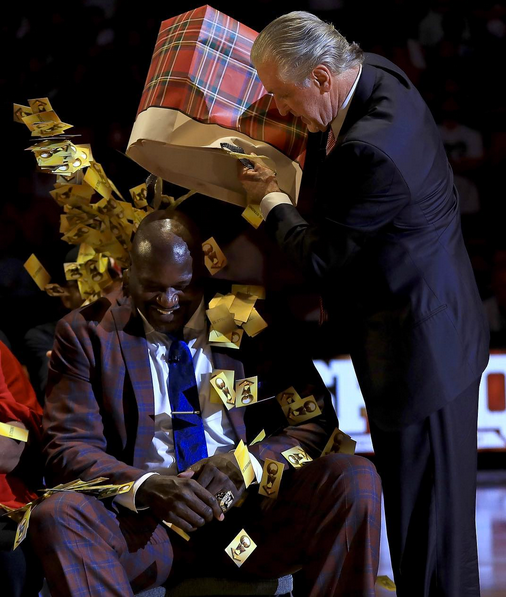 Pat Riley, former Heat coach and the man responsible for bringing Shaq to the team, introduced Shaq and talked about what it was like to get the NBA star on the team. Before Shaq hit the podium, he gifted him with a few "15 Strong" cards, symbolizing the 15 people who helped bring the team their first NBA title.
During his speech, Shaq first gave props to his former teammates Alonzo Mourning (above) and Udonis Haslem.
He also told few stories about his time with the Heat, recalling it was a young Dwayne Wade that made him want to play in Miami.
"I said, if I want to play anywhere, I want to play in Miami," he said.
 
During the ceremony, the Heat organization made a $50,000 donation to Shaq's charity, Odessa Chambliss Quality of Life Fund. They also presented him with a framed replica jersey banner; and, of course, the "Diesel Power"18-wheeler his mom rolled in on.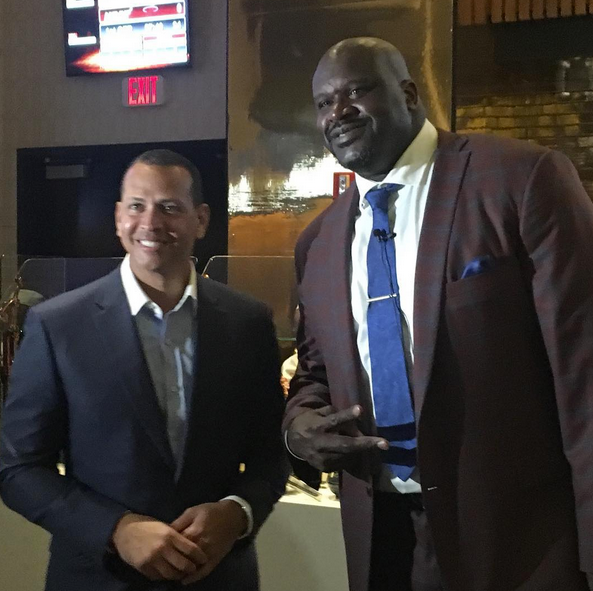 Baseball legend Alex "A-Rod" Rodriguez was in the building too.
Meanwhile, DJ Khaled was busy introducing his son Asahd to the Miami Heat players, including Udonis Haslem along with Miami Heat head coach Erik Spoelstra and Miami Heat assistant coach/retired NBA baller Juwan Howard: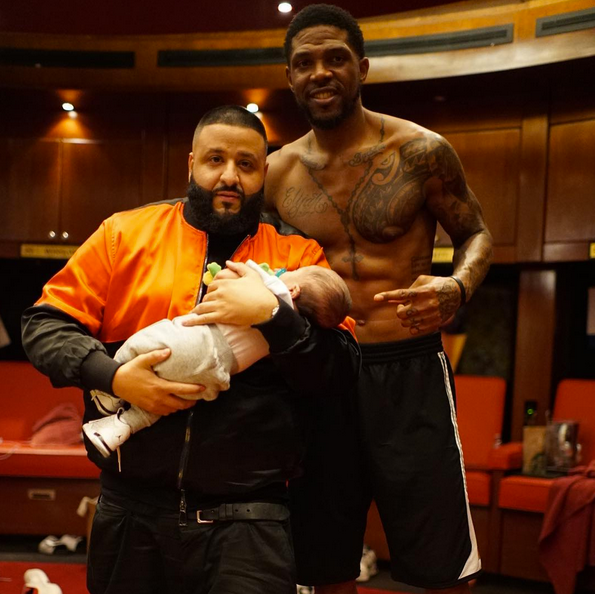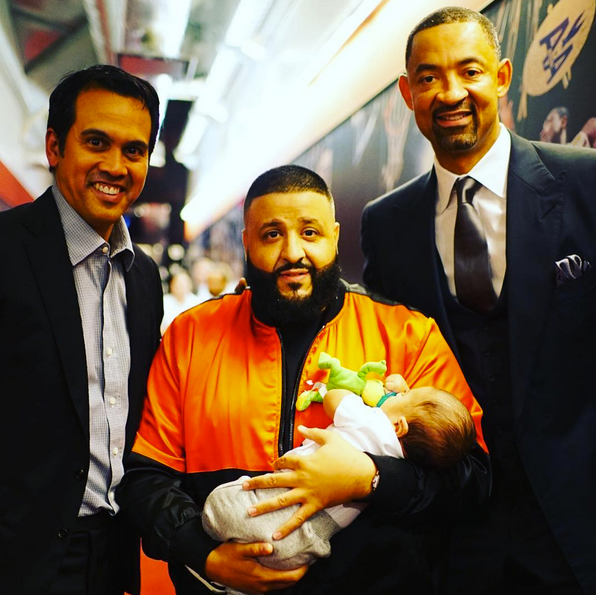 Rapper Fat Joe was also in the building. 
Check out the full ceremony below: 
Congrats Shaq!
Photos: NBA's IG/Heat's IG/Khaled's IG