ESSENCE magazine is giving us a sneak peek at their February 2017 issue. And Hidden Figures stars Taraji P. Henson, Octavia Spencer and Janelle Monae take us out of this world. Get into their fabulousness inside…
Before Hidden Figures wows us in the movie theaters, ESSENCE magazine is giving us a sneak peek at their February 2017 issue that features the three leading ladies on solo covers. And they all look amazingly gorgeous. 
Golden Globe winner Taraji P. Henson, Oscar winner Octavia Spencer and WONDALAND honcho Janelle Monae star as the unsung female African-American mathematicians who provided NASA with important mathematical data needed to launch the program's first successful space missions (the launch of astronaut John Glenn into orbit) during the Civil Rights era in the 1960s. The major accomplishment restored the nation's confidence, turned around the Space Race, and galvanized the world. The visionary trio crossed all gender and race lines to inspire generations to dream big.
With awards season in full effect, Hidden Figures has been nominated for Golden Globe Awards, SAG Awards and NAACP Image Awards.
Taraji will play Katherine Johnson, a math scholar who calculated rocket trajectories for the Apollo trips to the moon and other spaceflights. IN previous interviews, Taraji said math was never one of her favorite subjects in school. She said if she had someone like Mrs. Johnson in her life then she may have taken a different route in life.
"When I was growing up, people told me out of their mouths math and science are for boys," Taraji told the magazine." I was told that over and over. Like, no one showed me how to fall in love with numbers. If I had a teacher like Mrs. Johnson, who knows, I might be on the moon."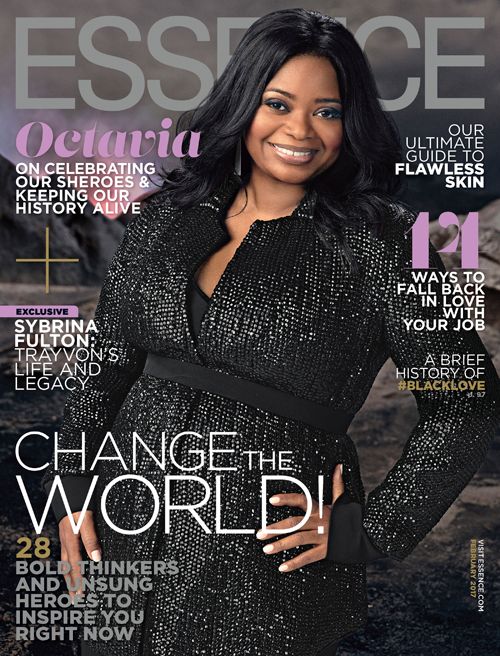 Octavia will play Dorothy Vaughan, NASA's first Black supervisor. When talking about her character in the interview, Octavia said, "Dorothy Vaughan is the genesis of Black Girls Code."
Janelle plays Mary Jackson, NASA's first Black aerospace engineer who challenges Virginia's Jim Crow segregation laws when she needs to take NASA mandated courses at an all White high school. She believes the ladies were so powerful due to them working together and not against one another. 
"I think they would not have achieved the level of success that they did had they not had one another," said Janelle.
The leading ladies of Hidden Figures will be featured on a separate cover in a group shot that will hit newsstands on January 13th. Their solo covers will be available for the subscriber's version of the magazine.
The film will have a limited release on Christmas Day and will hit theaters nationwide on January 6th. Mark your calendars!
 
Photos: Warwick Saint via ESSENCE