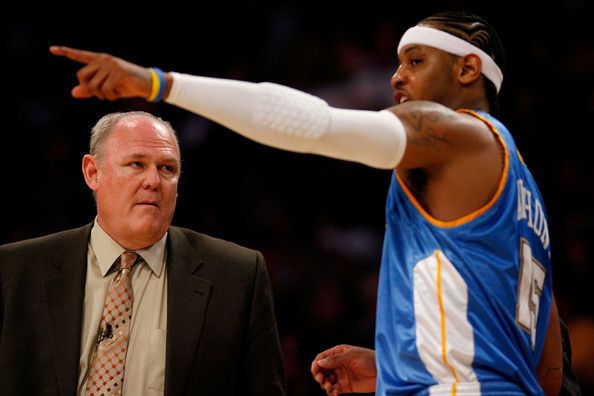 Former NBA coach George Karl goes IN on Carmelo Anthony in his new book. His chill is on ZERO. Go inside to find out what he said about Melo and get the latest on the sexual assault lawsuit brought against MSU and former MSU physician Larry Nassir inside…
Former NBA coach George Karl gives zero f**** about hurting anyone's feelings in his new book. We assume he said forget it, let me spill some warm tea to get these coins.
The New York Post has obtained an excerpt from his book "Furious George" (that's set to drop in January) and it reveals his true feelings about Melo during their time together with Denver Nuggets.
He writes:
"Carmelo was a true conundrum for me in the six years I had him. He was the best offensive player I ever coached. He was also a user of people, addicted to the spotlight and very unhappy when he had to share it."
Oh?
Coach Karl then critiqued Melo's defensive skills:
"He really lit my fuse with his low demand of himself on defense. He had no commitment to the hard, dirty work of stopping the other guy."
After playing for the Nuggets January 2005 to February 2011, Melo was over playing in Denver and demanded a trade. Coach Karl wanted the trade just as bad and couldn't wait for Melo to leave. He said the trade was "a sweet release for the coach and the team, like popping a blister." Ouch!
Oh and Melo wasn't the only baller on his sh*t list. He also slammed Cleveland Cavaliers baller J.R. Smith and retired player Kenyon Marton. He called the duo, along with Melo,"the spoiled brats you see in junior golf and junior tennis." He said J.R. had "a huge sense of entitlement, a distracting posse, his eye always on the next contract and some really unbelievable shot selection."
Well damn!
In other news...
Former Michigan State University student Tiffany Lopez (maiden name Tiffany Thomas) filed a sexual assault lawsuit on Wednesday against the school and the school's doctor/USA Gymnastics physician Larry Nassar. The new lawsuit is raising eyebrows on whether the school conveniently missed early warning signs about the accused predator.
In 1997, Tiffany was a softball player on a full scholarship, a standout freshman and she eventually made her way to the USA Junior National Team.
In 1998, Tiffany alleges Larry Nassar began sexually abusing her during medical exams after she complained of having back pain. She alleges he abused her more than ten times over the course of three years. The lawsuit alleges Nassar used a treatment he called "inter-vaginal adjustments."
In the court documents, Tiffany says she went to several high ranking employees at the school to discuss what was happening to her, but she was threatened to not make such allegations.
ESPN reports:
Upon reporting her sexual abuse by Nassar to the highest ranking employees within MSU's training staff, in or around 2000, the Plaintiff was intimidated, coerced, and threatened by high-ranking MSU training staff and told that she was not sexually abused by Nassar and not to make such allegations.

Lopez alleges that, when she refused to continue receiving treatment from Nassar in 2001, MSU pressured her to declare herself medically inactive as an athlete. Shortly after, she left Michigan State to return home to California. She currently lives in Los Angeles County.
In a news conference this week (above), Tiffany tries to keep her composure and tearfully says:
"They told me he was a world-renowned physician. What they did not tell me is that he was a serial molester and pedophile. I feel guilty. Not because I did anything wrong, but because I was not able to come forward sooner to help other girls."
There are SEVERAL criminal and civil cases pending against Nassar, all claims of sexual abuse.
We hope each and every victim gets some type of justice for the heinous alleged actions of this man!
 
Photos: Getty