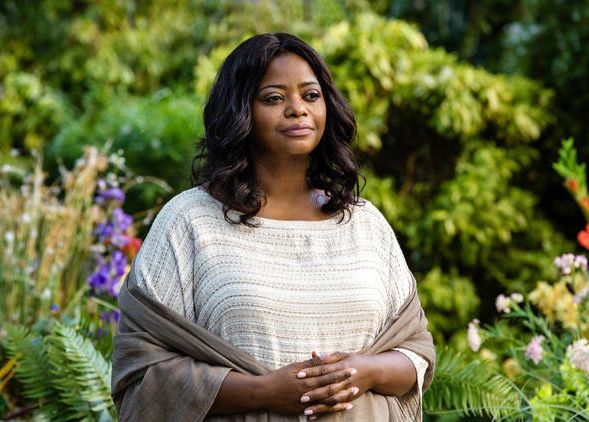 White Christian pastors are mad that God is being depicted as a black woman in the upcoming film, The Shack. Real mad.  More inside…
Lionsgate's upcoming faith-based film The Shack (based on best-selling book by William P. Young) is being scrutinized for the character that will depict God.  Even if she is Oscar winner Octavia Spencer.
In the film, Mackenzie "Mack" Phillips (Sam Worthington) is brought back to the place his daughter was kidnapped and murdered after receiving a note from God/"Papa" (Octavia Spencer) asking him to meet there. Once he arrives, he meets "Papa," a young Asian woman named Sarayu, and a carpenter named Jesus. Together, they seek to help Mack heal from his tragic loss.
Peep the touching trailer below:
White pastors are pissed a film will hit theaters that will portray God as a "heavy-set African American woman." They claim the movie is a "dangerous and false image of God." How SWAY?
Joe Schimmel, pastor of Blessed Hope Chapel in Simi Valley, California told Christian News Network:
"[William] Young's pretentious caricature of God as a heavy set, cushy, non-judgmental, African American woman called 'Papa' – who resembles the New Agey Oprah Winfrey far more than the one true God revealed through the Lord Jesus Christ in Hebrews 1:1-3 – and his depiction of the Holy Spirit as a frail Asian woman with the Hindu name, Sarayu, lends itself to a dangerous and false image of God and idolatry."
Caricature?
Oh, and he's not alone.
Other Christian leaders have added their two cents to the conversation saying the film could "far outweigh" the harm already done by William Young's book.
We're wondering, do these "Christian" leaders have an issue that God is BLACK or is the bigger issue is that God is a WOMAN? Or are their minds blown about both simultaneously playing out on screen?
We know without a shadow of a doubt if the person playing God in the film was a white man there wouldn't even be a discussion, despite the fact that no one even knows what God looks like. What does the "one true God" look like?
Regardless of how they feel, God will be hitting theaters as a BLACK WOMAN on March 3, 2017.  And they will deal.
Photo: Lionsgate