Speaking Arabic on a Delta flight could potentially get you booted off the plane. Oh, but if you're a Trump supporter ranting and raving, they'll nicely ask you to take your seat.
Get the details on YouTuber Adam Selah getting kicked off a Delta flight because he was speaking Arabic and why passengers are disputing his claim below…
Delta Airlines is coming under fire yet again.
YouTuber Adam Saleh says Delta employees kicked him and his friend off of a flight for speaking Arabic on the phone with his mother. Around 6AM this morning, Adam shared a video on Twitter boarded on the packed plane as he and his friend were being escorted off the plane.
"We're getting kicked out because we spoke a different language. This is 2016," Adam said.
As he pans his camera around the plane, one passenger begins to speak up, asking the flight attendant why were they being kicked off the plane. Meanwhile, groups of white people in the back are seen waving their hands while saying "Bye."
Peep the video:
We got kicked out of a @Delta airplane because I spoke Arabic to my mom on the phone and with my friend slim... WTFFFFFFFF please spread pic.twitter.com/P5dQCE0qos

— Adam Saleh (@omgAdamSaleh) December 21, 2016
Adam was on a flight from London to New York City. After they were taken off the flight, they were checked by security AGAIN and were told to wait. Delta eventually put them on another plane to NYC.
Peep his tweets (read from the bottom up):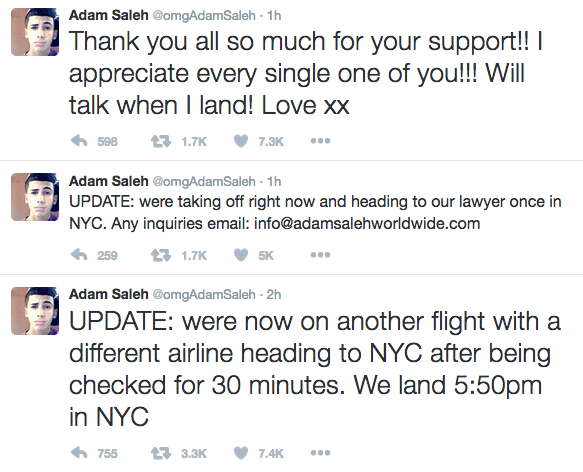 Since the video went up this morning, it has been retweeted 280,000 times as of the time of this post. Adam has over 2.2 million subscribers on his Adam Saleh Vlogs YouTube channel and 1.6 million subscribers on his TrueStoryASA YouTube channel.
Delta has issued a statement about the situation that reads:
"Two customers were removed from this flight and later rebooked after a disturbance in the cabin resulted in more than 20 customers expressing their discomfort. We're conducting a full review to understand what transpired. We are taking allegations of discrimination very seriously; our culture requires treating others with respect."
In an interview with CBS News, Adam said he was extremely upset about what went down especially since he travels all the time and never had something like this happen to him before. He said about 20 people were allegedly uncomfortable with him speaking Arabic on the phone. He said while he was on the phone with his mother, a woman turned around and told him that he needed to speak English. WHET?!
When he told the woman he would speak whatever language he pleases, her husband turned around and allegedly started yelling at him and his friend. And that's when ish hit the fan.
So basically, speaking in another language is grounds for getting you kicked off a flight, but standing up and YELLING at passengers who voted for Hillary Clinton is not grounds for getting kicked off a flight. HMPH!
I'm a @Delta platinum flyer but if they are becoming official airline of xenophobic racists, I will take my 100,000 miles & $15k to American https://t.co/YRl2YFbi5t

— bevysmith (@bevysmith) December 21, 2016
Adam DOES play a lot of pranks on his YouTube channels, so we're hoping this isn't one of his pranks.
The guy from the #boycottdelta video literally makes a career going on planes and throwing a scene. pic.twitter.com/9smBtljt8a

— Ashley Rae (@Communism_Kills) December 21, 2016
Based on his YouTube feed, it appears he may have done something like this before. Back in February, he posted a video where he's counting down in Arabic, but nothing happened other than a flight attendant staring him down. Check it at the 10:30 mark:
And here he is a few months ago walking through the airport in Islamic attire filming the reactions of people:
A passenger on the plane is now speaking out about the incident to reporter Soledad O'Brien. The passenger is disputing his claims that he was speaking on the phone with his mother, despite Adam saying the opposite. The passenger also said another passenger tipped off the flight attendants that he was a prankster (although, that's still not grounds to be kicked off a plane):
Soooo. I have a good friend on this flight right now. Getting additional details on how this went down. Standby https://t.co/ibOv6rguYU

— Soledad O'Brien (@soledadobrien) December 21, 2016
A LOT still unclear. But apparently woman sitting near my friend tipped off flight attendants he was a youtube star known for pranks.

— Soledad O'Brien (@soledadobrien) December 21, 2016
Also people on plane disputing call to mom

— Soledad O'Brien (@soledadobrien) December 21, 2016
Time will tell...