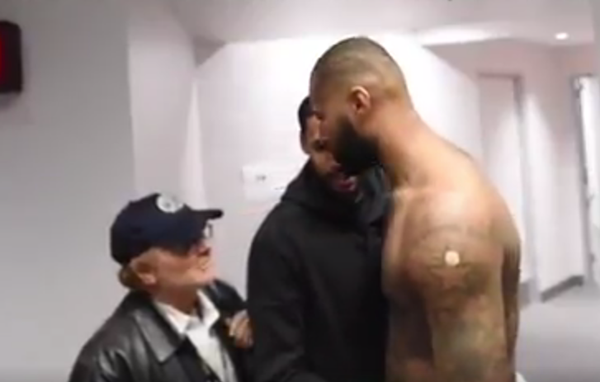 Don't talk about DeMarcus Cousins' family because he'll go straight savage on you. Peep the clip of the Sacramento Kings baller cursing out a reporter in the locker room inside…
Don't start nothing, won't be nothing!
Sacramento Kings player DeMarcus Cousins had an issue with Sacramento Bee columnist Andy Furillo, so he went OFF on him after a game in the team's locker room recently.
What set DeMarcus off exactly? Well, if you haven't heard, DeMarcus and Matt Barnes were involved in scuffle inside a NYC nightclub earlier this month where they both ended up being sued. Catch that tea HERE.
In an article, Andy wrote about the incident and he also wrote about DeMarcus' brother Jaleel Cousins' (an aspiring NBA player) past legal issues where he was arrested at a Tampa bar back in May. That pissed DeMarcus off, so he confronted Andy.
In a video published by The Bee, a shirtless DeMarcus got up in the reporter's face and laid into his a** saying,
"We're going to have some real f*cking issues! Don't EVER mention my brother again. You don't know my f*cking brother. F*cking coward."
He wasn't done…
"You can say whatever the f*ck you want to say about me, but don't mention my motherf*cking family."
Sheesh! Dude was pissed.
Someone stepped in to push DeMarcus away from Andy. After the run in, DeMarcus refused to talk to any media as long as Andy was in the room.
The clip continued with footage of DeMarcus either confronting reporters or refusing to answer media questions if a particular reporter was in the room.
Check it:
DeMarcus Cousins goes off on reporter. pic.twitter.com/rVSAC3eZKd

— NBA Inside Stuff (@NBAInside_Stuff) December 18, 2016
Sacramento Kings coach Dave Joergeraddressed the situation on Sunday in a pregame media conference saying:
 
"I do think what The Sacramento Bee did the other day was just ridiculous. This guy is the face of our franchise," Joerger said. "He's done and said some things that he wishes he could do over. He's improved; he's gotten better. But to go and use other reporters, third person, oh he bullies his coaches or he bullies, that is (trash). And to put it out there like that, that is ridiculous."

He continued, "They put my family on blast, my wife, my two kids with their names and their ages in an article about my house. I'm not justifying anything he's done. What he did is excessive, we've talked about it."
The Kings organization said they are "investigating the incident."  
So we have to ask, was DeMarcus wrong for confronting the reporter?