Mariah Carey was up to her diva antics on late night television last night and no one was safe. The Pop diva went OFF on Demi Lovato, shaded Ariana Grande, played coy about her rumored boyfriend Bryan Tanaka and opened up a bit about her breakup with James Packer. Get it all inside…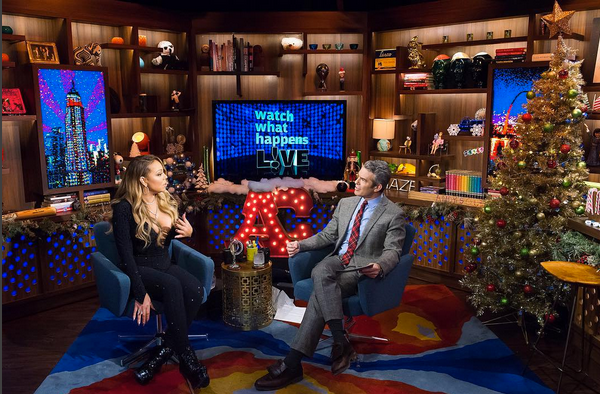 Mariah Carey is known to say what's on her mind and she did just that last night on "Watch What Happens Live."
The Elusive Chanteuse singer strolled into the clubhouse to chop it up with Andy Cohen about an array of topics and, of course, her new reality show "Mariah's World." Being her usual over the top glamorous self, MiMi worked a deep v-neck jumpsuit, sky high booties and was dripping in diamonds for her late night appearance.
MiMi's diva meter was on 1,000! During a game of "Plead The Fifth," the 46-year-old songstress had to set another Pop diva straight. Apparently, singer Demi Lovato took issue with Mariah's shade towards Jennifer Lopez. The infamous "I don't know her" line set Demi off, so she blasted her on social media. Andy asked her about it and MiMi set Demi straight once and for all.
"I don't know her either and so I wouldn't say anything to her. She should come up, introduce herself to me, say 'Here's my opinion, what do you think about it?' That's how you handle sh*t, OK?"
Bloop!
During the game, she was also asked about her new boy toy Bryan Tanaka. Are they really a couple? Was he a factor in her breakup with James Packer? MiMi wouldn't say. She basically kept saying everyone needed to tune in to her reality show to find out the real deal.
During a game of "Does She Know Her?!," Andy went down a list of famous pop singers to see if Mariah knew any of them. When it came to Ariana Grande being compared to be a mini Mariah, well let's just say MiMi "does not know her" either. Ha!
"I don't know. Honestly, I'm not familiar. I listen to Hip Hop more than I listen to pop music."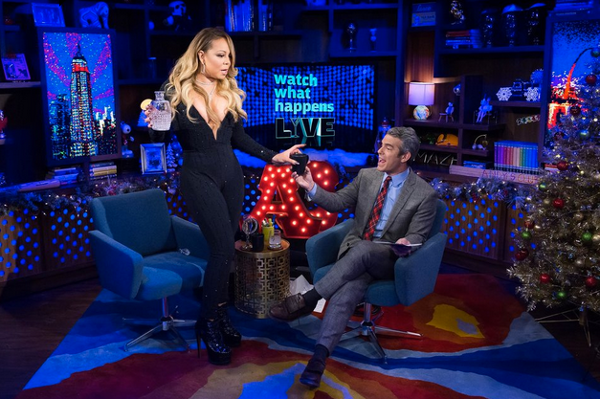 Then, she talked about her breakup with her ex-billionaire fiancé James Packer. A fan called in to ask if she took out scenes with James in "Mariah's World." She answered, "Yeah, I don't want to put anybody in a position where they have to look at somebody they don't want to see or its hurtful. It's so fresh and it kind of just happened."
But, Mariah isn't taking the breakup too bad. When asked if their uncoupling stung her she responded, "No, I think that everything that's meant to be it's meant to be. I believe if it were supposed to happen, it would happen."
She also showed love to Beyonce, saying "We're friends. I think she's one of the most talented women out there. I love her."
Don't we all?
Peep the clips below:
Click HERE for mobile 
Click HERE for mobile 
Click HERE for mobile 
Click HERE for mobile 
Gotta love her!
Photos: BRAVO/BRAVO's IG/Andy's IG