Shemar Moore is clapping back at rumors that he's gay. And he got some help from Phaedra Parks to prove his point. More inside…
With his new movie The Bounce Back now out, Shemar Moore has been heavy on the promo trail. And he has also been making headlines for other reasons.
Rumors about the former "Criminal Minds" star being gay have started circulating again and he's addressing it head on.
During a Q&A with BET, Shemar made it crystal clear that he's NOT gay. He calls speculation about his sexuality "silly" and ignorant. And he says if you think he's gay,"send your girlfriend to my house for the weekend and see what happens." Oh? He told the network:
"I just think it's all silly. If you're gay, you're gay. I'm not, and I know that and I'm very comfortable with who I am and I love women. I've dated plenty of them. If you think I'm gay, send your girlfriend over to my house for the weekend and see what happens. For real. You can call that arrogant if you want to. I just call it confident. You can call me whatever you want, but you don't know me."
Apparently, gay rumors were refueled when he was spotted hanging out with a fan in what appeared to be an LGBTQ nightclub earlier this year.
"I have fans that are gay, men that come up to me, and they're inspired by me, or they like me as an entertainer, and when they want to give me a hug or take pictures with me, what, am I supposed to not put my arm around them or stand next to them, and if the man next to me in the picture is gay, that makes me gay? That's just simpleminded ignorance, and I don't play that."
To further prove he's all about the ladies, Shemar got hot and heavy with "Real Housewives of Atlanta" star Phaedra Parks (who's currently single) on "Watch What Happens Live" this week. Shemar and Phaedra were >< close through the interview and even kissed…on the lips…several times.
Peep their flirtation below: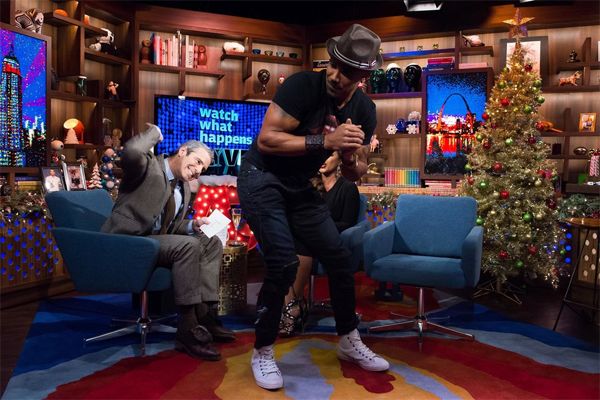 After getting kissy with Shemar on "WWHL," Phaedra dished about locking lips with Shemar to The Daily Dish revealing,
"I'm newly single and while I had a wonderful kiss with Shemar Moore — a few kisses with Shemar Moore — such a treat for my lips, but I am single and if it happens, it happens."

"I am open to be in a relationship or to date, but that is not [a priority]. I have a very full life and so I'm not desperate for a man and if it happens, it happens."
Oh.
Love connection perhaps?
Photos: BRAVO