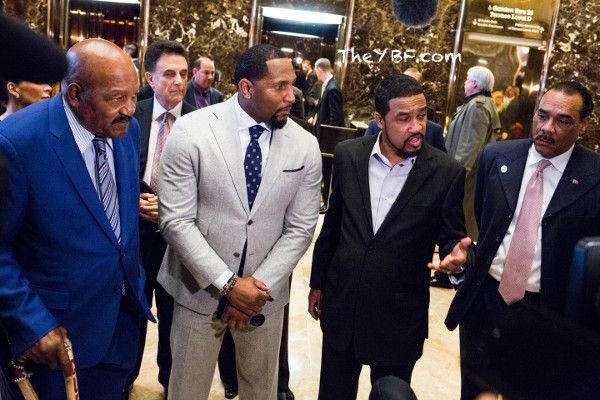 Former NFL stars Ray Lewis and Jim Brown trekked it to Trump Tower yesterday for a sitdown with president-elect Donald Trump, following Kanye West's meeting. Now, Ray is responding to those who think they turned their backs on the black community. Find out what he said inside…
Following Kanye West's meeting with Donald Trump, former NFL star Ray Lewis and NFL legend Jim Brown (above with Rev. Darrell Scott) stepped inside Trump Tower yesterday to chat with the president-elect.
After it was announced that the NFL legends were meeting with Trump, critics spoke out against the two saying they turned their backs on the black community, but Ray disagrees.
He's fiercely defending his meeting with Trump and his cabinet saying that the meeting was beneficial for the betterment of the black community and our children.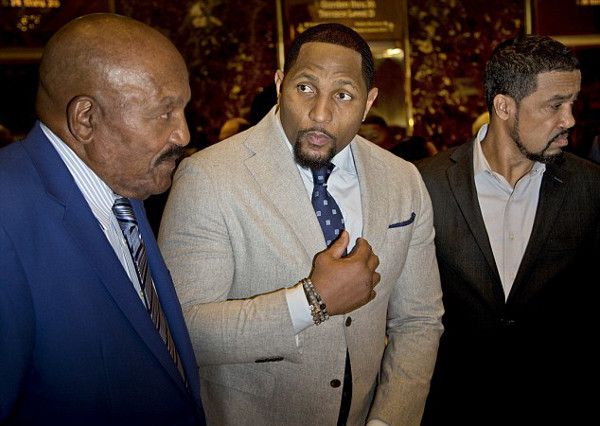 Rays says he didn't meet Trump to ASK him for anything. He simply met with him to make Trump aware of the issues that plague urban America. He sat down Colin Cowherd on "The Herd" on FS1 to discuss his meeting saying,
"I can't ask you for nothing. I can only tell you what we're doing. We need a machine behind us to change what's going on in urban neighborhoods."
Ray reveals Jim called him up and asked him how he felt about meeting with Trump. When folks started bashing him on social media about Ray and Jim turning their backs on the black community, Ray says it's the most embarrassing thing for him to hear.
"If people really want to know why we went there we went there for OUR future, to give our future a real chance," Ray says.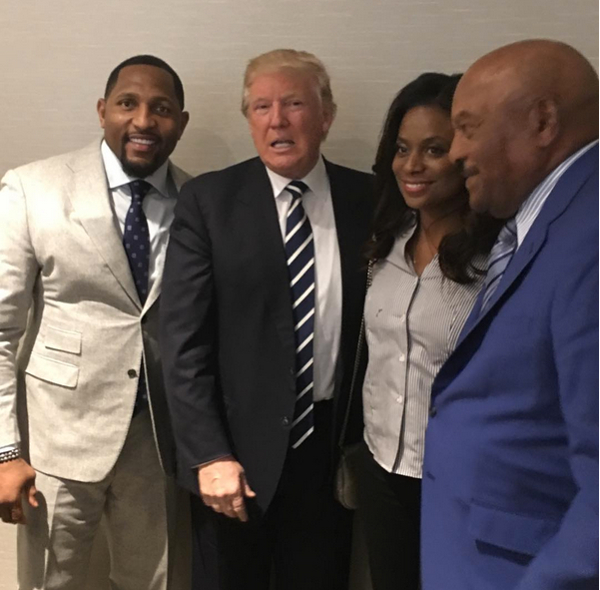 Oh.
He says Trump told him that he would put his money behind Jim's Ameri-I-Can program that helps ex-gang members change their lives to become working citizens. Well alright.
Peep the interview below:
Thoughts?
Meanwhile, retired NBA star John Salley is speaking out about Kanye's meeting with Trump this week and he says the meeting was a "brillant" move on Ye's part. Check it below: 
People are so easily impressed....
Photos: INSTARimages/AP/Ray's IG