Former NFL running back Joe McKnight was laid to rest this week and several of his NY Jets teammates served as pallbearers. Today, Joe's family met with prosecutors to talk about his killer being charged with manslaughter. More inside…
On Monday, family, friends, former teammates and coaches gathered to say their final goodbye to former NFL running back Joe McKnight. Everyone gathered to New Home Ministries church in New Orleans to celebrate the life of the slain 28-year-old who played for the NFL from 2010-2014. He leaves behind a 7-year-old son.
Five of his former NY Jets teammates served as pallbearers, including Antonio Cromartie, Bart Scott, LenDale White, Willie Colon and D'Brickshaw Ferguson, who carried his casket during the funeral services. It's reported NFLer Mark Sanchez, who played with Joe at USC and the Jets, was also in attendance.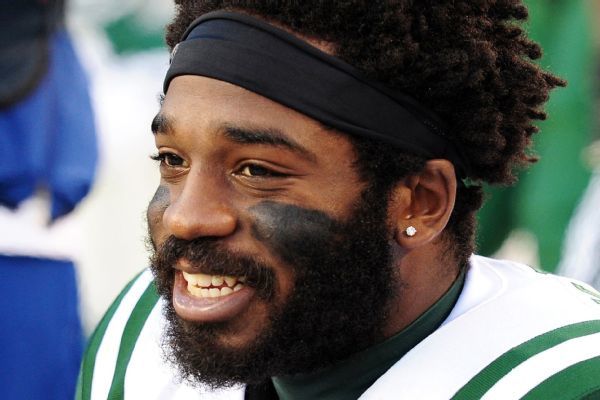 The USC alum was shot and killed during a road rage incident on December 1st in Terrytown, Louisiana. According to NOLA.com, the shooting occurred around 3pm at the intersection of Behrman Highway and Holmes Boulevard.
An anonymous eyewitness says she saw a man, later identified as 54-year-old Ronald Gasser, yelling at another man (Joe), who was trying to apologize. Ronald reportedly fired his gun, shooting Joe more than once according to her account. She said she saw Ronald shoot Joe, stood over him, and allegedly said "I told you don't you f*ck with me," then shot him again.
After the shooting (on Dec. 1st), Ronald was released WITHOUT charges leaving Joe's family members OUTRAGED. On December 5th, police booked him on a manslaughter charge and he currently sits in jail on a $50,000 bond. He has requested a bail reduction hearing, set for December 21st.
According to ESPN, Joe's mother, sister and son's mother met with prosecutors today to discuss the next steps in the legal case against Joe's accused shooter. The family feels Ronald should have been charged with 2nd degree murder. The family's attorney George Tucker told the New Orleans Advocate that prosecutors "assured the family that their position is that he should not have his bond reduced."
So sad. We send our condolences to his family and friends.
Photos: AP/Getty