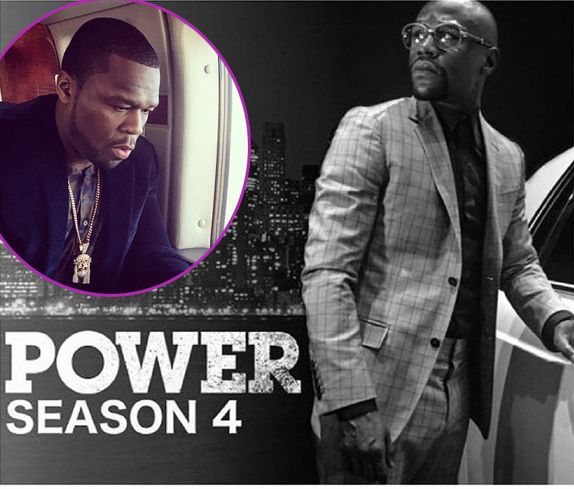 Y'all know 50 Cent starts acting petty when he doesn't get his way. Now, he's threatening to leave "Power" after the Golden Globe Awards snubbed the show and jokes that Floyd Mayweather will join the series. More inside…
50 Cent is BLASTING the Golden Globes after his STARZ series failed to land any nominations. The "Power" star and producer is HEATED over the show being snubbed. And now, he's threatening to quit the show.
Hours after the nominations were revealed, Fif posted a picture of himself on a private jet looking down at his phone while slamming the Golden Globes in the caption. He wrote,"I'm on the move again, Golden globe's can suck a d*ck."
He continued, "I accept my series POWER was not intended to be a signature show for the network but it is the highest rated show. I know my audience very well, I'm done promoting this out side of contractual obligations. SEASON 4 KANAN MUST DIE, I got other shit to do. #EFFENVODKA"
Shortly after, he posted a photoshopped picture of his frenemy Floyd Mayweather "announcing" that he will be taking his spot on the hit STARZ series in Season 4. He wrote, "I'm off the POWER train, champ is gonna do the show. Go to him for more info, I gotta do something different. #EFFENVODKA"
The undefeated champ hopped in 50's comments to respond to joining the show writing,"50, I'll be waiting for her call. Money, POWER, Respect!" The "Power" executive producer responded,"Money, POWER, Respect, they do what they can. We do what we want." Will Floyd be making an appearance on "Power?" With Fif behind the project, you just never know, but the Instagram conversation seemed to be more of a joke. OR, he could be dropping a hint that Floyd with actually join the series. 
It's worth noting, "POWER" raked in a record breaking 2.26 million viewers for the season 3 debut, making it the most-watched episode STARZ original series. The show is currently filming season 4 and it has already been renewed for season 5.
 
Photos: 50's IG