Here we go.  Just when Kanye West's "sources" claimed he was taking it easy and not doing things that could cause too much commotion or stress, blonde Yeezy pops up at Trump Tower this morning.  Deets and pics inside...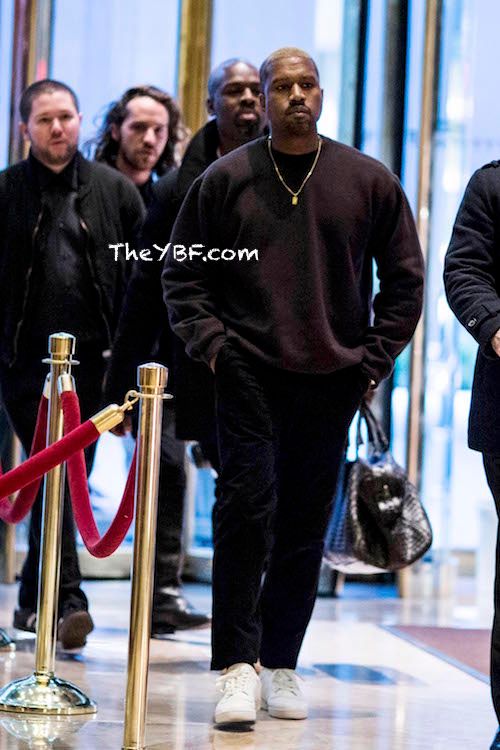 Dressed in sweats and sneakers, Mr. West made his way in and out of Trump Tower just moments ago.  Doing what  Who knows.  But we do know he's been in the city for the last couple of days reportedly "shopping for a psychiatrist" and a New York team of doctors to help him continue his mental health recovery.
Pool report: Kanye is in Trump Tower pic.twitter.com/HPaLS1jnvX

— Sam Sanders (@samsanders) December 13, 2016
A member of the President-Elect's press pool, Sam Sanders of NPR, put out an alert that Kanye West had entered Trump tower at 9:13AM this morning.  His wife Kim was not with him, but his mother-in-law's boyfriend Corey Gamble was.
Trump posed with him afterwards (video below) saying they are "just friends" and "discussed life."
Could Yeezy be in discussions with Trump about performing at his Inauguration?  Quite possible.  We all know he's still a bit bitter he wasn't buddy buddy with Obama and constantly invited to the White House the way his frenemy Jay Z was.
Could Trump have offered him the job of Surgeon General?  The way these new presidential appointments have been going, we woudn't even be surprised.
Trump and Kanye are two sides of the same stunt-loving coin.  So, time will tell...
Photos: StarTraks/InStar