Joe Budden and his girlfriend Cyn Santana are enjoying some pre-Christmas holiday fun.  And that includes liquor. Go inside to see what happened when Joey tried to stop a tipsy Cyn from rapping and peep pics of fine a** Drake on a retail run inside…
When you're drunk and your man tries to stop you from embarrassing yourself, hilarity ensues.
Rapper Joe Budden and his girlfriend Cyn Santana were enjoying some quality time together in the house last night. And the infamous red cup was in the mix.
Cyn was sipping on some "juice" and decided to post an impromptu rap performance of Joey's Dipset homie Cam'ron's track "Suck It Or Not" in front of their Christmas tree. Chick had a red cup in her hand and a broom when she started spitting the lyrics to the track. She appeared to be feeling whatever she was drinking, so Joey tried to take her drink, but she wasn't having it. #DontYouDropThatAlcohol
Peep the funny clip below:
Meanwhile...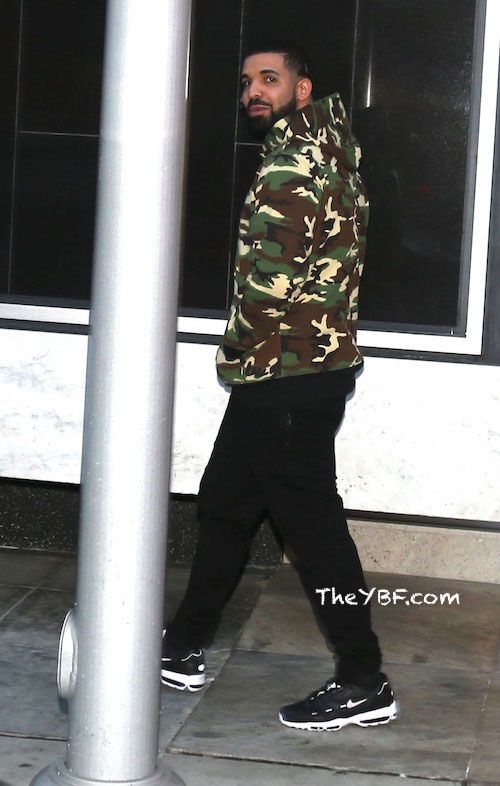 After nabbing 8 GRAMMY nominations, Drake treated himself to a retail run in Beverly Hills. Drizzy possibly picked up a few items for himself, or he could have been picking up a few Christmas and/or Hanukkah gifts for family and friends at Barney's New York.
Variety reports:
The conflict dates to 2013, when Azoff formed GMR to compete with the established licensing companies, ASCAP and BMI, which together control approximately 95% of music copyrights. ASCAP and BMI have longstanding agreements with radio stations, which are represented by the trade group RMLC, that set rates for airplay.

RMLC filed suit on Nov. 18, accusing GMR of exercising monopoly power over its copyrights, and seeking to force it into rate arbitration akin to the arrangements with ASCAP and BMI. RMLC contends that GMR is seeking extortionate rates for its songs.

On Wednesday, GMR fired back, filing its own suit accusing RMLC of running an illegal cartel comprising 90% of the nation's radio stations — which prevents it from negotiating licensing agreements with individual stations.
The two companies will battle it out in court to figure out who has the right to play what and the cost of playing those tracks on radio stations.
 
Photos: FameFlynet/Splash