Of course, the Kardashians are blaming their lawyers for challenging Blac Chyna's new 'Angela Renee Kardashian' trademark. Either way, Chyna is very likely about to have their last name, whether they like it or not. Get the latest on the trademark fiasco and check out a new sneak peek at "Rob & Chyna Baby Special" inside…
Kim, Kourtney and Khloe Kardashian TRIED it when they pulled some legal strings to block Blac Chyna from trademarking her new name, Angela Renee Kardashian. Now, after getting dragged all over the internets for saying Chyna would "cause harm to their reputation," they're pointing the finger at everyone else.
The Kardashian Klan claims they had nothing at all to do with their lawyers opposing Chyna's request to trademark her marital name and that their legal team "automatically" challenged the trademark. Hmph.
Sources close to Chyna tell TMZ that Kim, Kourtney and Khloe reached out to Chyna to inform her that their lawyers were following procedure and that they weren't trying to "mean girls." You'll recall, the girls were fearful that if Chyna got the trademark that they would "suffer damage including irreparable injury to their reputation and goodwill." Chile…
Momager Kris Jenner also talked to Chyna to reassure her that there were no hard feelings between them and that she would handle the lawyers. She said it was a simple mistake.  So no one on their legal team saw and recognized it was Blac Chyna who filed the trademark?  If y'all say so....
Meanwhile, Chyna's lawyer is speaking out about the ordeal and he says he was shocked to learn that the Kardashians were trying to block it. Chyna's attorney Walter Mosley told PEOPLE:
"The Kardashians, like Angela and my other clients are very protective of our marks, I think for us this is going to be a clear case win, because it's actually her name, it's not a poaching. I would hope that this is just a junior lawyer's error, who's just responding to everything and not really looking at who it's from or why it was filed. There's a softer side of this where Angela has to have a conversation with her family. But until I hear otherwise, I'm just going to proceed as I normally would with a lawsuit. I have 40 days to respond."

"I have to respond to the notice of opposition, so the way this works is we filed the mark, it was initially unopposed, it was published and then the representatives of the sisters' companies filed an opposition to Angela owning her name. Sure, it's not her legal name now, but it is certainly her stage name — her next stage name and her legal name once the wedding is done. In the complaint they are not short or shy as to how they feel about Angela using the trademark. I'm hoping that it's just a big misunderstanding but I'm just proceeding as if it's not and am going to do the best work I can for my client."
Chyna's mom Tokyo Toni had plenty to say as well, and she didn't hold her tongue. She blasted the Kardashian Klan in an Instagram post: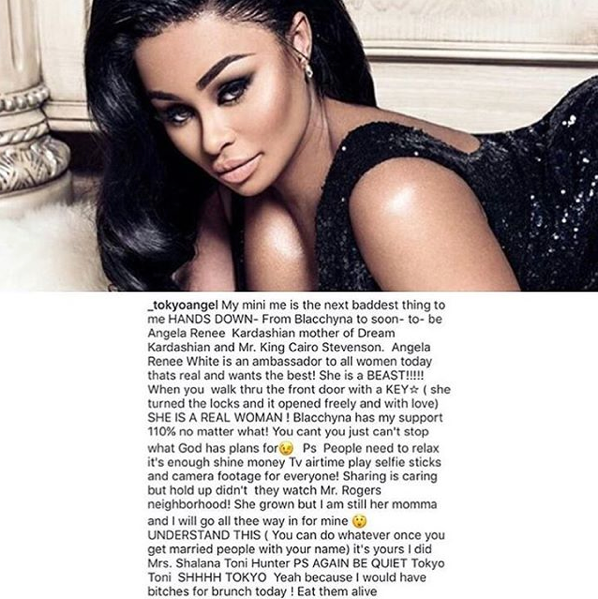 Bloop! 
The name has yet to be approved, but we shall see how this all pans out.  We wouldn't be surprsied if they knew about the "automatic challenges to anything Kardashian" and purposely let it fly.  It's a way to get what they really want while keeping their hands clean.
In other news, check out a new sneak peek at "Rob & Chyna Baby Special" were Rob Kardashian see baby Dream for the first time:
The new episode airs Sunday, December 18th at 8pm on E!
Photos: Angela's IG