The Navy tried to start some ish between Rihanna and Beyonce, but Rih shut it down. Get the latest and peep coupledom shots of Waka Flocka and Tammy Rivera on a date inside…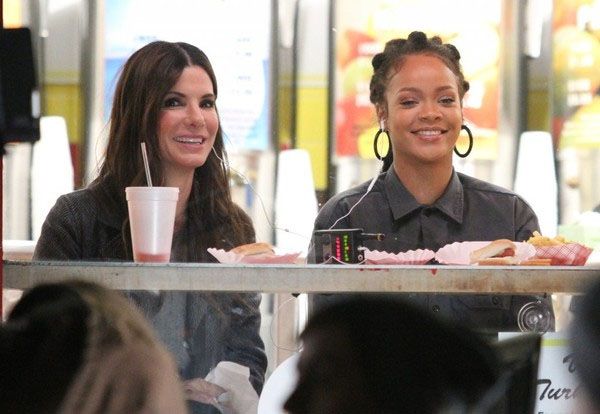 Rihanna is still in NYC shooting scenes for the all-female reboot of Ocean's 11, titled Ocean's 8.
Yesterday, Rih was spotted on set alongside her co-star Sandra Bullock eating hot dogs and french fries at Papaya Dog fast food restaurant in downtown Manhattan.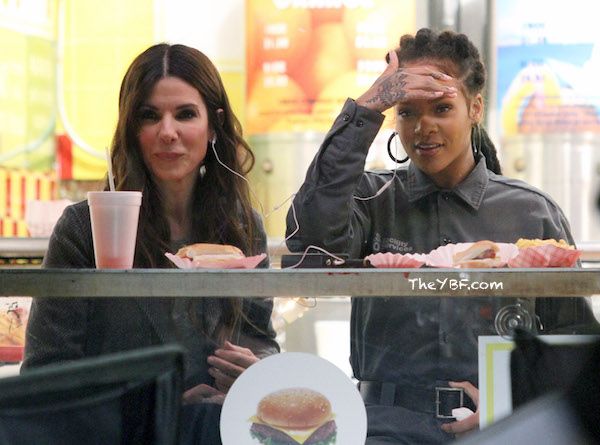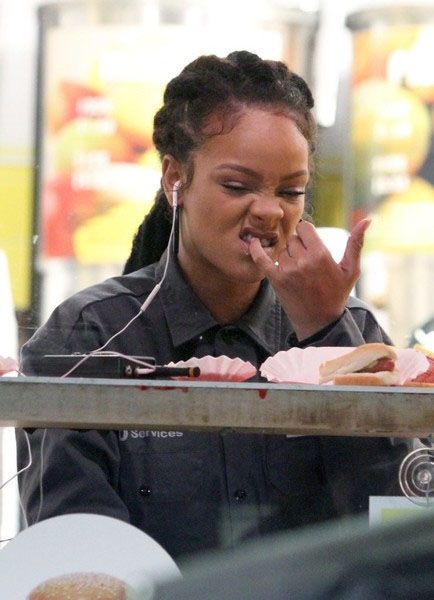 Ha!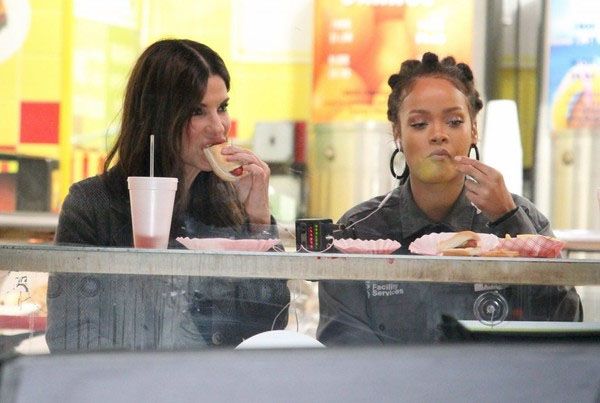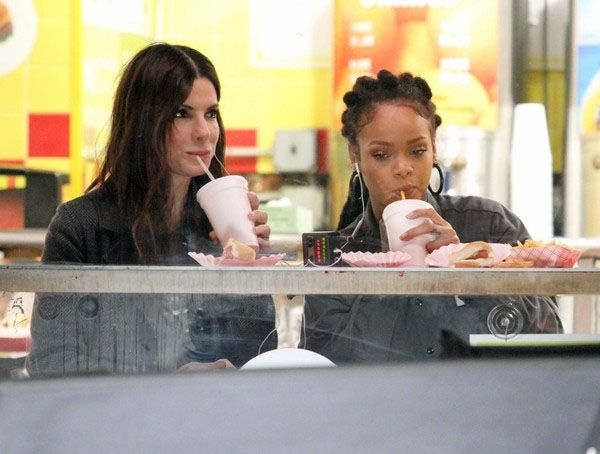 In between shooting scenes, the Bajan beauty was spotted trekking through the concrete jungle yesterday in a laid back look with a cup of coffee or tea in tow:
 
She rocked a Namilia motocross tracksuit jacket, distressed Balmain jeans topped with a VETEMENTS shearling leather jacket, Timberland boots and a Louis Vuitton Twisted Box handbag.
The night before, the "Work" singer got all dressed up for dinner at the Spotted Pig in the West Village to munch on some British & Italian eats. The 28-year-old singer, who's up for 8 GRAMMY Awards this year, was dressed for the cold weather in a Burberry shearling jacket, wide leg Céline pants, gold Haider Ackerman booties and her favorite Louis Vuitton Twisted Box handbag.
Meanwhile on social media....
After the Grammy Award nominations were announced, fans got busy to stir up some drama between Rihanna and Beyonce. A Rihanna fan page posted up a picture of Rihanna in her Kadooment Day attire with a caption that insinuated Beyonce was favored over Rih.
The caption reads, "Congrats and all to @badgalriri and all for her 8 Grammy nods but tbh fuck them because they snubbed her for Song of the Year and Album of the Year. Like how my nigga!? I think they didn't want her tied or passing someone else *cough cough* [lemon emoji]. Cause if they wouldn't have played her she would have been in the lead with most Grammy nods. Fuck u Grammys, ANTI did amazing things this year and y'all played her. I think y'all shook!
Rih liked the post and that caused a frenzy in the comments section between the NAVY and the Beyhive. After Rih caught wind of the drama, she hopped in the comments section to clear up the misunderstanding. She wrote:
 

I never actually read your caption, thought the pic was funny and moved right along! Til I seen it pop up over and over! I'm petty af, yes. But this is just unnecessary! I wish y'all would drop this topic and see things from the bigger picture! We don't need to be putting black women against each other! We deserve to be celebrated, and the Grammy Academy agrees!
No beef there. 
On SnapChat last night:
The fashion designer had some fun playing with the fox filter while singing R. Kelly's "I Believe I Can Fly." Check it above. 
On the west coast...
Rapper Waka Flocka and his wife "Love & Hip Hop: Atlanta" star Tammy Rivera are keeping the relationship hot after briefly breaking up over the summer.
The couple went out to dinner at Catch restaurant and then hit up the Staples Center to check out the Lakers vs. Rockets game at the Staples Center. 
The swimsuit designer, who's featured in the newest Bleu Bombshell magazine, came under fire recently when she tried to justify her husband's alleged cheating ways. In the interview, she said she decided to stay and work on their marriage because it's hard to find REAL love. She said she thinks its weak of a woman to up and leave her man who has decided to change his ways for the sake of his family. She spilled,
"So, my mom always told me– you can find a man who can financially take care of you, you can find a man who might not be a cheater, might have it all together, might of grew up with a father in their household, but it's hard to find real love and a person who genuinely loves you and who is willing to change, my husband was willing to change for his family. So why would I give up on my husband. I'm not that type, I think that's weak of a woman to do that. It's easier to walk away as opposed to than to speaking up! No we're going to fight for this we got married. My family is worth fighting for."
Folks went IN on Tammy on social media, so she decided to respond. After the backlash, she said the magazine "switched up her words.." Either way, she's not leaving Waka anytime soon. 
By the way, Tammy announced she's getting a breast reduction in the year.
 
EXTRAS:
1. Black employees file class-action lawsuit against CNN. STORY
2. Cedric the Entertainer will co-create, executive produce and star in "Tony Take the Wheel" coming to the CBS network. STORY 
Photos: FameFlynet/Startracks/INSTARimages/Splash