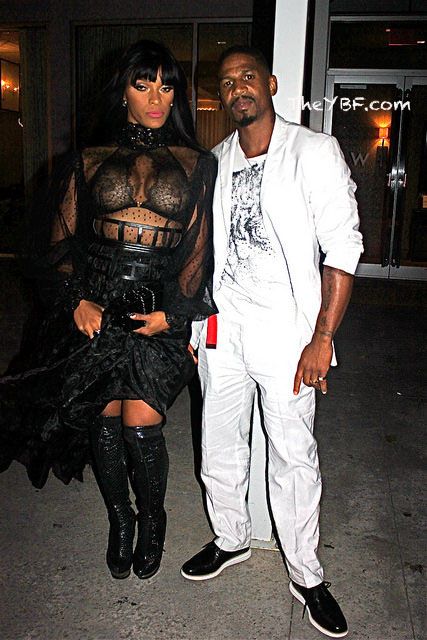 It was all good a few days ago. Literally...a few damn days ago. But ish allegedly has already turned violent between Stevie J and a pregnant Joseline Hernandez. Stevie claims Joseline attacked him and now he fears for his life. More inside…
On Sunday, Stevie J and a pregnant Joseline Hernandez seemed to have put their issues aside for the sake of their unborn baby Bonnie Bella. But, there's still drama brewing between these two.
You'll recall, Stevie posted up a video of Joseline cooking him breakfastSunday morning with a sweet caption sharing he was ready to take on his responsibility as a dad and was "all in" on helping Joseline with their new bundle of joy. But, something went down shortly after, which we figured since Stevie ended up deleting the post not long after he posted it.
According to Stevie, his pregnant ex-girlfriend showed up to his house…uninvited. He claims a fight broke up shortly after he posted the video of Joseline cooking breakfast. She apparently bruised up his face and eyes during a physical altercation.
So, the "Love & Hip Hop" star, who will be starring on his own spin-off "Leave It To Stevie," headed down to the courthouse to file legal papers. In the court documents, he reportedly details ANOTHER encounter that happened between them at a DNA lab where he was having a paternity test done at her request.
TMZ got ahold of the court docs that say Joseline threatened Stevie, lunged at him, cursed him out and threw papers all around the room..and the cameras were rolling. Now, Stevie wants the courts to demand Joseline undergo a psychological evaluation as well as anger management. He reportedly fears for his life and the baby's. He's also requesting to have a guardian appointed for the baby who should be making her arrival in a few weeks.
With cameras with them at the DNA lab, we could possibly see the showdown on "LAHH" or Joseline's upcoming delivery special she has been hinting at on social media. Either way, these two need to get it together before that baby is born.
Photo: Linx Images/Moses Robinson