A day after Tomi-gate on The Daily Show, Tomi Lahren had a peace summit of sorts with host Trevor Noah and Charlamagne Tha God after she backed out on appearing on The Breakfast Club.
Deets inside...
After Trevor Noah gave "The Blaze" host Tomi Lahren a taste of her own condescending, conservative medicine on his show, which went viral, the twosome defended each other on social media.  Then, they caught up with each other at the Bowery Hotel.  TMZ posted the two in the  lobby of the swanky NYC hotel the next day: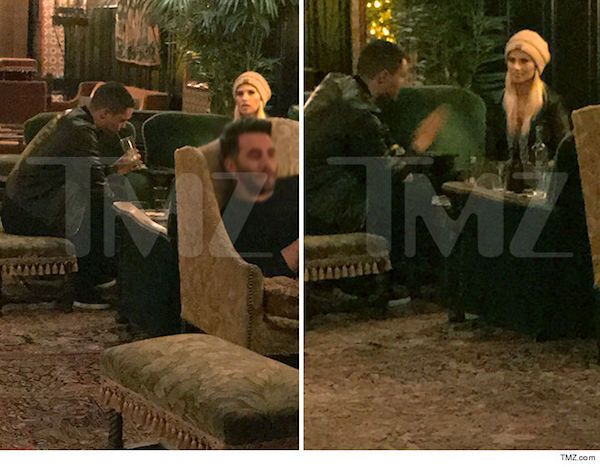 Hmph.  Apparently Trevor defending her after he took her to task wasn't enough, even though it wasn't needed.  Heaven forbid she gets politely roasted about her un-polite opinions and condescending, ignorant and prejudiced rhetoric.
Tomi backed out of her appearance on The Breakfast Club the following morning, and Charlamagne revealed her network pretty much wanted to stop the bleeding.  To be so vocal and confident on her own show, they surely do treat her like a fragile kitten who can't hold her own when she has to defend her beliefs on someone else's platform.
It seems as though Charlamagne still caught up with her though.  He and his Brilliant Idiots podcast co-host were spotted posing it up with Tomi yesterday:
Tomi posted the topmost pic, and captioned it with #BeSafeTho, something Taxstone always says on his podcast.  So, maybe she ended up doing something with any of the fellas afterall?
We wonder if all this 'making up' happens for everyone who rightfully gets a proper rebuttal. Or does it just happen for those who look like her since we all know how America hates to see certain women be portrayed in a bad light, whether she brought it on herself or not.
Charlamagne said yesterday to TMZ that he wanted to know from where she got her staunchly conservative views.  And, of course, he "wanted to know if she ever had any Black penis."  
Well, maybe he found out yesterday.  Time will tell...
Photos: TMZ/Instagram