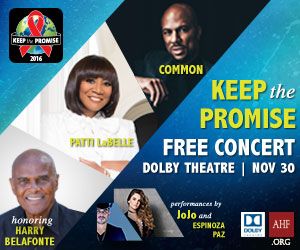 YBF celebs Common, Patti Labelle and more are gearing up to join the fight against AIDS, just in time for World Aids Day!  Get into the free concert and more inside...
LA! Are you ready for a FREE concert featuring Common and more? TheYBF.com is joining the AIDS Health Foundation to promote the upcoming free #KeepThePromise concert and march on November 30 to celebrate #WorldAIDSDay!
Barbershop 3 star Common, Patti Labelle, Rosie Perez and more will be on hand to perform and to honor activist Harry Belafonte.
We are dedicated to raising awareness for those living with HIV/AIDS as it disproportionately affects the African American community.  Let's stand up for our brothers and sisters in these communities (and have some fun while we're at it) on Nov 30th.
Go to ahfwad.org to join the movement and register for the event!