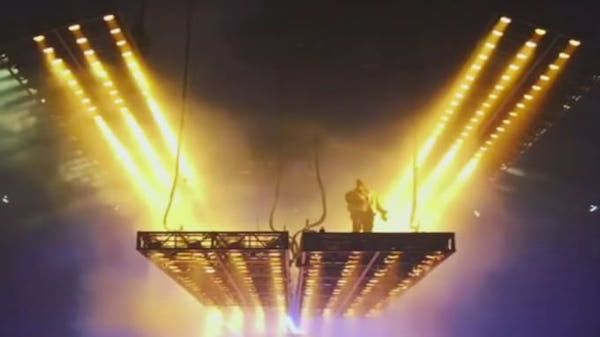 All day folks have been dragging Kanye West -- with a trending hashtag and everything -- about his behavior at last night's show. And this time, the Beyhive's ears perked up. Full story -- and how he's taking advantage of all the publicity he likely intentionally generated -- inside...
UPDATE: Sacramento concertgoers can now get a refund for last night's show.
_____
Kanye West stormed out on his Sacramento audience last night after barely 30 minutes and not even 3 songs. But first, he had another rant for the masses.  While on his floating stage at the Golden 1 Center, he blasted his "big sis" Beyoncé for playing politics in order to get an MTV Video Music Award saying:
"Beyoncé, I was hurt because I heard that you said you wouldn't perform unless you won Video of the Year over me and over 'Hotline Bling,'" he told the crowd.

"Not trying to diss Beyoncé. She is great. Taylor Swift is great. We are all great people. We are all people. But sometimes we be playing the politics too much and forgetting who we are just to win. F**k winning. F**k looking cool. F**k being cool," he continued.
Of course, he had something to say about Jay too:
"Jay Z, I know you got killas. Please don't send them at my head. Just call me—talk to me like I man."
Will Jay please call this man?  He's clearly really wants him to.
He brought out Kid Cudi for an emotional makeup session after he dissed him about a week ago.  Tears seemingly occured:
'Ye went off about many other things. He said "f*ck radio" for repeatedly playing the same songs, like specifically Drake & Khaled's "For Free," and not playing "real sh*t".
He also demanded the crowd to cheer and clap for every name he mentioned, whether the crowd knew them or not, when talking about the "realest people in the game."
Then, he ditched his own audience after barely 3 songs. He said:
"I'm here to change things. I have the vision. And things can only change when people recognize their falsehoods."
Oh. Sounds familiar. Check out 17 minutes worth of his rant, if you'd like. He accused the press of racist passive aggressiveness, then dropped the mic saying "the show is over":
His usually overly loyal fans surprisingly flipped on him, and the "F*ck you" chants began:
@ComplexMusic and the crowd says, "f*** you kanye." #kanyewestpic.twitter.com/EWzm7BWLrS

— Rachel Anne (@jetsetter714) November 20, 2016
And they took to their social media (along with the trending #KanyeIsOverParty hashtag on Twitter this morning):
Really @kanyewest how are you gonna disrespect your fans who spent there hard earned money to see you by coming late, rant & perform 2 songs

— arvin (@djarvin) November 20, 2016
Now, he's posting to his Instagram (which he rarely ever does) pics of his collection of clothing and shoes that he's seemingly promoting. Rants and PR stunts from Mr. West almost always mean he's gearing up to sell something. So, get ready for Yeezy menswear:
EXTRAS:
1.  Former Clippers Owner Donald Sterling Reaches Agreement With The League Over Lawsuit. STORY