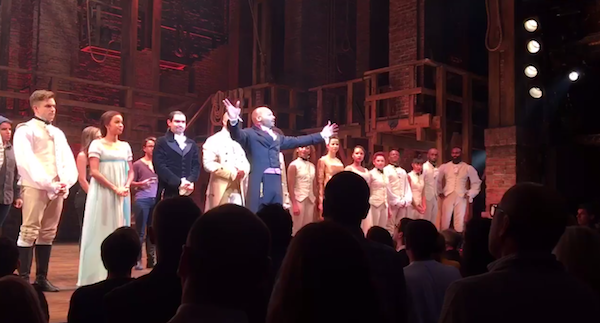 The cast of "Hamilton" may have welcomed VP-Elect Pence to their show Friday night, but they surely had a message for him before they left.  get the classiest read of the week inside...
When Mike Pence and co. arrived at the Richard Roberts Theater Friday night to catch the most impossible production to get into, Hamilton, he was in for a rude awakening.
Mike Pence booed at Hamilton is exactly the type of content I come to Twitter for. pic.twitter.com/EK0pXvPxWA

— Philip Lewis (@Phil_Lewis_) November 19, 2016
Most of the crowd boo'd him, and a few cheered.  Since the upcoming VP is known to believe in and advocate to raise funding for "shock therapy" and "pray the gay away" methods, not everyone in America is a fan.  So one of the most famous Broadway casts took the opportunity of his presence to give him a classy, much needed read.
At the end of the production, during the standing ovation, star Brandon Dixon (who plays Alan Burr) stopped the crowd and asked Pence to hold on a secodn before walking out.  Then he whipped out a piece of paper and proceeded to read a message to him on behalf of the cast:
Tonight, VP-Elect Mike Pence attended #HamiltonBway. After the show, @BrandonVDixon delivered the following statement on behalf of the show. pic.twitter.com/Jsg9Q1pMZs

— Hamilton (@HamiltonMusical) November 19, 2016
"Vice President-elect Pence, we welcome you and we truly thank you for joining us here at 'Hamilton: An American Musical.' We really do.  We, sir, we are the diverse America who are alarmed and anxious that your new administration will not protect us, our planet, our children, our parents or defend us and uphold our inalienable rights, sir. But we truly hope this show has inspired you to uphold our American values and work on behalf of all of us. All of us. Thank you."
Hmph.
Meanwhile:
Biden: I sent Pence tickets to Hamilton
Obama: Joe..why
Biden: just watch
Obama: pic.twitter.com/7uxLBiidbL

— Erika (@ErikaBuis) November 19, 2016
Ha.