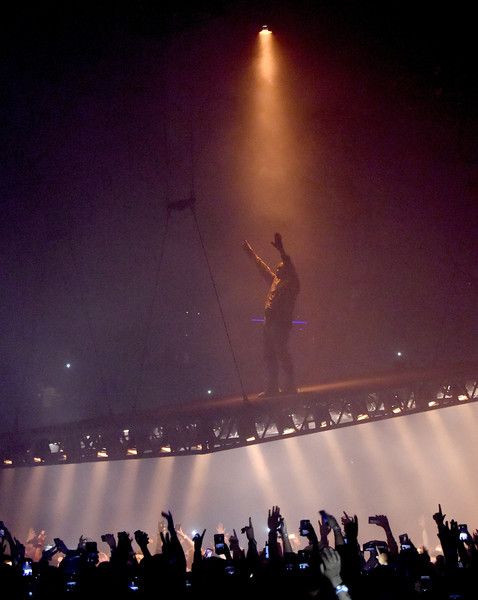 Contradicting ones self has become a staple of what we expect from Kanye West.  And here we are again.  He would have voted for Trump, he says, had he bothered to vote at all.  But his reasoning is interesting.  Full story inside...
They do have a lot in common, with their God-like complexes and cult-like following and all.   We're not surprised that Kanye is a fan of his fellow Gemini homie Trump.  They're two sides of the same coin personality wise.
Last night at his San Jose concert, he told the Cali crowd:
"I would've voted for Trump" - @kanyewestpic.twitter.com/XtyUteCgUZ

— albertoreyes (@albertoreyes) November 18, 2016
"I told y'all I didn't vote right?  But if I would have voted, I would have voted on Trump."
Lots of boos...and one person clapping...took over the venue immediately after he said it.  California overwhelmingly voted for Clinton, afterall.
But he also told the crowd racism is a fact of life in America, and black people need to stop focusing on it and getting "distracted" by it:
"To black people, stop focusing on racism. We live in a racist country -- that is a fact." - @kanyewestpic.twitter.com/utmV9a99LJ

— albertoreyes (@albertoreyes) November 18, 2016
"Black people, stop focusing on racism.  This world is racist, ok.   Stop being distracted to focus on that that much.  It's just a f**king fact.  We are in a racist country.  Period."
The rapper/producer went on to say:
'Not only did I not vote, but there were a lot of things I actually liked about Trump's campaign. His approach was f**king genius - because it worked....That don't mean I don't think that black lives matter. That don't mean that I don't believe in women's rights. That don't mean that I don't believe in gay marriage. That don't mean that I don't believe in these things,' he said.
So...what does it mean?
Not sure how one is distracted by racism, which is literally defined as an entire group being systematically oppressed by another group with majority of power.   We wonder if he would tell the Muslim woman wearing a hijab -- at San Jose State actually -- who was brutally attacked hours after Trump's win, or the incredible amount of black children who are dealing with being called a n*gger in school since Trump was elected, or the Latino children who cried in this video as their classmates chanted "Build The Wall" to "stop being distracted."
Victims of racism are directly and indirectly affected and reminded of racism daily. It permeates throughout their lives, especially those who don't have millions to sometimes buck the system or have the privilege to take the "ignore it and it will go away" approach.
But we digress...
As for other reasons Kanye could have said it -- it could be anything.  He could ACTUALLY be a Trump fan, he could be gearing up for his own 2020 Presidential run and buttering up Trump to financially back him, he could subscribe to the David Banner school of thought, he could be kissing ass in order to get a cabinet position, he could be just manipulating his fans and media for the publicity he craves but says he hates, he could be flat out lying, or MANY other reasons.  You never know with this guy, which is why it's always difficult to take anything he says seriously. 
If you don't believe in voting, but admit racism is a fact in America, what do you suggest the other 99% (the non-famous and non-multimillionaires in America) do, Kanye?
Kanye donated $2700 to Clinton's campaign last year, and his wife was vocally in support of Hillary.
And that's why Kanye was just being Kanye.
Photo: Getty