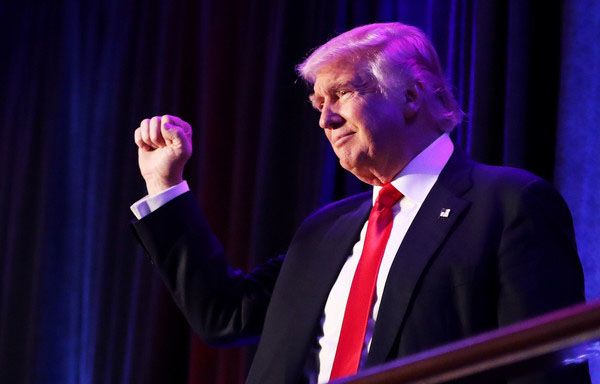 Now that Donald Trump has won the presidential election, the companies standing behind him are going public. And one of them are sneaker giant New Balance. Find out why they are supporting the president-elect inside….
The election is over and now America will be under Donald Trump's control for the next four years. And we don't use the term control loosely. 
While several of Trump supporters remained mum during the presidential campaign, they're now coming out to publicly defend our future president. How convenient.  But it's all good, since folks now will know exactly who stands where, and you can spend your money appropriately.
Sneaker company New Balance is speaking out to show their support of our new president. The company's vice-president of public affairs shared with a Wall Street Journal reporter that they felt like the Obama administration turned a "deaf ear" to them and they feel like Trump will "move in the right direction."
New Balance: "The Obama admin turned a deaf ear to us & frankly w/ Pres-Elect Trump we feel things are going to move in the right direction"

— Sara Germano (@germanotes) November 9, 2016
This per NB VP public affairs. New Balance has publicly opposed TPP. https://t.co/tdKp6o8UyS

— Sara Germano (@germanotes) November 9, 2016
New Balance has publicly opposed the Trans-Pacific Trade Partnership (TPP) and so has Trump, so it comes as no surprise they would support the president-elect who wants to get rid of the deal.  We guess money and trade trump everything for certain folks.  Especially the priviledged.
Several folks are now TRASHING and BURNING their New Balance sneakers after the company announced it favors Trump's win:
@SoleCollector@newbalancepic.twitter.com/6dROPnmYdm

— Jean Ralphio (@MMArtinitus) November 10, 2016
Oh no, @NewBalance, time to trash the only athletic brand that fits. Cause it doesn't fit me if it's Pro-Trump https://t.co/Tu1WwLUvKspic.twitter.com/lFXfYzAoD4

— Jann Alexander (@AustinDetails) November 10, 2016
@newbalancepic.twitter.com/jqdV5oJrjB

— hammi (@closeblanket) November 10, 2016
So, will their endorsement of Trump change your mind about copping a pair of New Balance sneakers?
Photo: Getty